MacBook Pro 2019: Apple Is Almost Out of Chances to Address 3 Key Gripes
Please, Apple, my laptop. It is still very bad.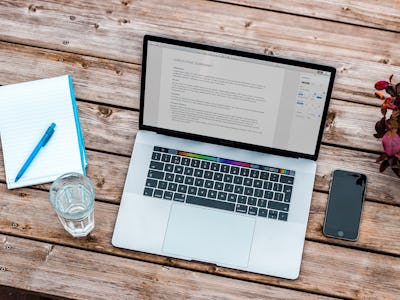 Unsplash / Bram Naus
Apple is said to have an especially busy September keynote in 2019. In addition to the expected new trio of iPhones, a new MacBook Pro is also rumored. That's something of a surprise, the tech giant only recently updated its high-end MacBook Pro laptops with faster processors and adjustments to its keyboard. Then again, a subtle update may not have been sufficient to sustain interest in what's become one of Apple's more troubled products.
A 16-inch MacBook Pro could join the existing 13 and 15-inch models, according to IHS Markit analyst Jeff Lin. The new model is expected to come retrofitted with an LCD display with a 3,072-by-1,920 resolution, the highest out of any MacBook Pro before it, Lin told Forbes on Sunday. For those specs, expect a retail price of more than the $2,399 and $2,799 price tags touted by both the 15-inch Pro variants at the moment.
Lin's forecast lines up with predictions made by trusted Apple analyst Ming-Chi Kuo in February. At the time, Kuo predicted that a "16 to 16.5-inch" MacBook Pro with an all-new design would come to market in 2019. The fact that not one, but two reputable analysts have echoed one another's predictions suggest the launch is likely, but consumers will be looking for a lot more than a few flashy features.
While a bigger screen and increased resolution might be tantalizing to some buyers, there have been a handful of complains about the current generation of MacBook Pros. For a price tag of upwards of $3,000, customers will not only expect the best specs, they will at bare minimum, expect a keyboard that actually works.
Time is running out for Apple to address these three key issues with its ubiquitous workplace laptops.
3. New MacBook Pro: Improved Processor Performance
The current 15-inch MacBook Pro comes with the option to include an eight-core, 2.3GHz Intel Core i9 processor. These CPUs are actually pretty good, and were tested to provide a 42 percent improvement over the pervious i7 generation. But this performance improvement may still not be enough to future-proof a new MacBook Pro for long.
DigitalTrends tested a 15-inch i9 MacBook Pro by rendering a five-minute, 4K video against a 2019 Razer Blade laptop with an i7 Core. The Razer beat the MacBook by a minute, even though it was using a pervious-generation processor.
"The other thing I noticed over the course of the render time was speeds that slowly tempered," explains DigitalTrends' Luke Larsen. "Even though the MacBook Pro can boost up to 5GHz, these longer renders caused the machine to throttle performance."
This performance is embarrassing given the high price tag. Not only do users have to pay $300 extra for the i9 processor, but a Razer Blade with the i7 is roughly $1,000 cheaper.
Apple needs to make sure the 16-inch MacBook Pro is optimized to utilize the i9 processors it's offering.
2. New MacBook Pro: No Sticky Keyboard
Apple began incorporating its "Butterfly Keyboards" into MacBooks in 2015 and they've been problematic ever since. The company was plagued by a myriad of reports that even the smallest bits of dirt, gunk, or dust — once stuck between a key and the chassis, — would render the keyboard sticky or completely unresponsive.
In response, Apple made keyboard improvements a central selling point of the new MacBook Pro released in May. Specifically, Apple began using nylon underneath the keys instead of silicone, which is expected to cut down on sticky debris. But, given the devices launched only recently, it's still unclear how much of a long-term fix the nylon will prove to be.
AppleInsider tested the updated keyboard alongside a 2018 MacBook Air and said they were "largely no different" in feel. There haven't been any widely publicized reports about sticky keys in a few months, which could be a good sign.
The 16-inch MacBook Pro will need to stick to the same playbook or further improve the keyboard to avoid an issue that bedeviled its predecessors.
1. New MacBook Pro: Help the Touch Bar Find Its Way
Since 2016, Apple replaced the row of F-Keys at the top of its MacBook Pro keyboards with a long Touch Bar stripe. Three years later, the feature has been widely described as astray.
DigitalTrends said it "lacks an obvious purpose," 9to5Mac called it a "gimmick," and an ex-Apple employee straight up called it "useless."
The feature was presented as a new type of medium for developers to create all new ways to interact with MacBook Pros, but that has yet to come to fruition. To make matters worse, adding the touch bar forced Apple to remove the physical Escape Key that used to be at the top left corner. That was a huge sore spot for programmers, some of whom use that key as much as the space bar.
If the Touch Bar is truly the future, Apple is running out of time to find ways to get people to like it.