HomePod 2: Release Date, Price, Features for Apple's Rumored Smart Speaker
Apple may be about to redefine the smart speaker.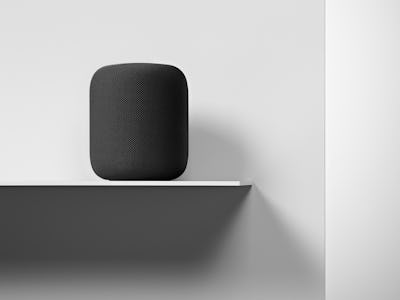 Apple
HomePod could be on the verge of a big upgrade. Apple's $349 smart speaker has failed to set the world alight, faced with strong competition from Amazon Echo and Google Home, but the company may be about to move into the lucrative lower-cost brackets to expand its market share beyond hardcore Apple fans and audiophiles.
"It is likely that this year we will see either a price drop on HomePod, the introduction of a lower-cost model, or both," Paul Erickson, senior analyst at IHS Markit, tells Inverse. The notion of a 2019 HomePod was also the subject of a June 2018 report from Bloomberg.
Apple's speaker, released in February 2018, occupies a curious space in the voice-activated speaker world. It's the first Siri-powered smart speaker, but the area remains dominated by Alexa and Google Assistant, both of which offer variants at a variety of price points. The HomePod's cost puts it close to the $399 Google Home Max and $149 Amazon Echo Plus. An October 2018 report from Strategy Analytics found that HomePod has four percent of the American smart speaker market, just below the Echo Plus's five percent and far above the Home Max on two percent.
Those are respectable figures for premium devices, but there remains a large chasm in the market that Apple is not addressing. The Amazon Echo Dot and Google Home Mini, both $49, command 21 percent and seven percent of the market respectively. In total Amazon accounts for 63 percent of all smart speakers and Google accounts for 17 percent.
"The sales performance of HomePod thus far has been low to lukewarm in comparison to that of the two competing ecosystems, and it is unlikely Apple wants to easily cede the market to Amazon and Google," Erickson says.
HomePod 2: Price
Apple has left a broad swathe of the market open for a new product. Although the company is reluctant to compete on the low end, the fact that you can buy seven Amazon Echo Dots for the price of one HomePod means that any consumer will likely need to really adore Siri to fork over the extra cash, even if HomePod offers better sound quality.
"The high majority of market volume is selling below the $100 price point, in sharp contrast to HomePod's current positioning," Erickson says.
A lower-cost model around this price point would pose a threat to the $99 Amazon Echo and $129 Google Home as well as their cheaper counterparts.
It's not a certainty, though, as the HomePod is already produced at fairly thin margins. A February 2018 report from TechInsights claimed Apple spent $219 on making each HomePod, a 38 percent margin that pales in comparison to the Echo's 66 percent and Google Home's 56 percent. It's also lower than other Apple products, like the iPhone X which had 64 percent margins.
HomePod 2: Features
Reaching these lower price points will require scaling back some of HomePod's more exotic features. The cylinder measures seven inches tall and 5.6 inches wide, but packs seven tweeters with individual drivers and precision acoustic horns. These are wrapped around a four-inch woofer, creating a package that delivers impressive sound.
"I would suspect that any lower-priced HomePod would be smaller and keep much of the symmetrical design language, but would lose the current seven-tweeter array in favor of a lower cost option with either fewer tweeters or a vertically opposed single tweeter firing into a conical radiator for 360-degree dispersal," Erickson says.
Apple may also pare down the speaker's sensing features. The HomePod currently uses accelerometers to measure when it's moved, scanning the room to shape the sound for the area. It's the sort of feature found on the Google Home Max but missing from smaller speakers like the Home Mini.
"Other cost reductions would be possible via a reduction in the number of microphones used for far-field voice recognition from 6 to between 2 to 4 mics," Erickson says.
Previous patents also suggest gesture controls using the smart mesh are in the works, plus a feature that would use Siri to measure a user's emotions based on their voice.
Another possible feature could be face recognition. That's according to David Ho, president of Inventec, which manufactures the HomePod.
"We see trends that engineers are designing smart speakers that will not only come with voice recognition but also incorporate features such as facial and image recognition," he said in November 2017. "Such A.I.-related features are set to make people's lives more convenient and to make the product easier to use."
HomePod 2: Release Date
A launch date is unclear, but it could emerge during Apple's next major annual conference. The Worldwide Developers Conference is scheduled to kick of June 3 at the McEnery Convention Center in San Jose, California. The annual event typically covers software launches, but in recent years Apple has also taken the opportunity to detail upcoming hardware launches.
A summer launch could help Apple gain the upper hand over Google. Rumors suggest the company will launch upgrades to its Google Home lineup this year, which could coincide with the I/O annual developers event set for May 7 to 9 at the Shoreline Amphitheater in Mountain View, California. Prospective buyers might hold off on pulling the trigger if there is a new, low-cost Apple offering on the way.
The battle of the smart speakers could be about to enter a new era.