Google Home Speaker 2019: Could Google I/O Be the Stage for Something New?
Google is unloading its Home speakers at discounts, so what's next?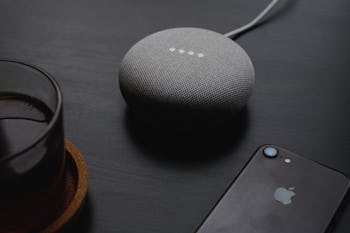 Unsplash / Dan Farrell
Is Google about to upgrade its smart speaker suite? Signs suggest that the $129 Google Home, which first launched in November 2016, could see a new version launch this spring. The launch would come as Amazon makes major headway in the market, with the Alexa voice assistant piping through Echo speakers worldwide. Rumors suggest Google could launch an upgrade at I/O, its annual developers' conference scheduled for May.
"With I/O approaching, and Google Home now at a year and a half old, I would be surprised if Google does not introduce a replacement, successor, or at least an addition to the current lineup," Paul Erickson, senior analyst at IHS Markit, tells Inverse. "Or, there may be a price/positioning realignment of Google Home to more of a competitive parity at $79-$99 versus Amazon Echo."
Smart speakers have rapidly become the new battleground for technology giants. Their simple design offers liberation from a day otherwise filled with screens, and they can act upon an ever-growing array of vocal commands. It's a prospect that grows even more impressive in a smart home filled with even more products. With your Google Home (or Home Mini) or Alexa speaker, you can control and be notified of the actions for almost every device in your home — from your doorbell to your washer and dryer.
While Google Assistant's A.I. capabilities out of the box are greater than its Amazon counterpart, Amazon's deep integration with more third-party services through the "skills" store offers an appealing, differentiating element.
These factors, plus central placement on Amazon's website and earlier release back in November 2014, have granted Amazon the lion's share of the market.
An October 2018 report from Strategy Analytics states that Amazon accounts for 63 percent of smart speakers in use in the United States, with Google trailing on 17 percent and Apple's HomePod at just four percent. That's just one fraction of the A.I. assistant story, though — while Alexa runs on around 100 million devices worldwide including products like Fire TV, Google counts one billion Assistant-powered devices globally including products like Android smartphones.
Google Home 2019: Why It Could See an Upgrade
Beyond market share, signs point to new hardware launching soon. Sources speaking to Nikkei last month claim the company will launch an updated Google Home later this year alongside new wearables and a cheaper smartphone. Google did not respond to Inverse's request for comment about new hardware.
The Google Home upgrade may be announced at the annual "Google I/O" conference, scheduled for May 7 to 9 at the Shoreline Amphitheater in Mountain View, California. Last year's announcements covered the restaurant-booking A.I. Duplex, new features for Android P, and more details about Google Home Hub.
It wouldn't be too surprising if an updated Home launched at the event, as the original debuted at the 2016 conference.
Other details suggest Google is looking to aggressively expand its market share by lowering prices on existing hardware, which could precede a new product launch. Google slashed the price of the $149 Home Hub to $99 in October 2018, the same month it started giving away the $49 Home Mini to Spotify Premium Family subscribers.
In March, it brought the Spotify deal to France and the United Kingdom, while in the latter country, it slashed the price of the $399 Home Max in half for a limited time. In the United States, the Google Store cut the price of the Home Max by $100, Home by $30, Home Hub by $20, and Home Mini by $10.
Erickson explains that Google has been keen to encourage third-party developers to build Assistant-powered smart speakers, a strategy that is bearing fruit with the JBL Link Bar, Sonos One and Harmon Kardon Citation. This may explain why the Google Home has stayed relatively still over the past three years as Amazon aggressively updates its Echo.
"Both Amazon and Google have deep third-party support and ecosystems, so while 2018 in my eyes was the first true year of competition and mainstream consumer relevance for the smart speaker market, 2019 will be a year of higher-amplitude competition between Amazon and Google — with Q4 bound to be a good time of year for consumers seeking discounts and promotional bundles," Erickson says. "I believe we will also see at I/O, IFA, and the coming CES, increased incorporation of smart speaker functionality into other devices, now that economies of scale have driven the cost of far field voice recognition downward."
In short, smart speakers are about to get a whole lot more exciting.
Google Home 2019: New Features It Could Include
There's a number of ways Google could improve its smart speaker offerings. While the Home Mini and Home Max that launched at the end of 2017 offer a nice fabric design, similar to the updated Amazon Echo range unveiled last year, the original Home has received numerous comparisons to an air freshener.
Google could also improve the range's speaker functionality. The Home Mini, unlike the Echo Dot, lacks an audio-out port. Users can pair the device with a Bluetooth speaker, "cast" from their enabled device to the speaker, to improve the sound — or hack it to add in an audio-out port — but there's no option to take it out of the box and pair it with a more capable hi-fi system. Similarly, while the Home Max supports stereo pairing, the feature is missing from the cheaper models.
The existing Google speakers fit the bill well, in part as the actual smarts are always improving in the cloud. Compared to the Echo, though, Google has a number of areas where it could improve for its next outing.