iPhone 11 May Have a Tile-Style Tracker
Will losing your iPhone become a thing from the past?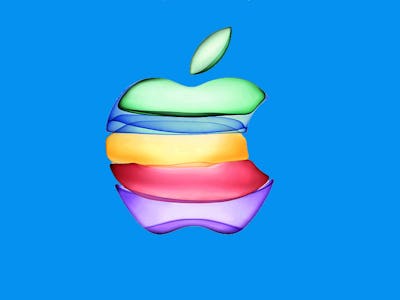 Apple
On Tuesday, Apple will once again head to the Steve Jobs Theater to reveal its plans for the next generation of Apple. Rumored upgrades are said to include improved waterproofing, reverse wireless charging, and a new Tile-like tracking device called an Apple Tag.
Renderingsof the tags show smooth, M&M shaped discs featuring an Apple logo that could be thrown into a bag to keep tabs on its whereabouts by using your iPhone. But what would set these tags apart from Tile and similar Bluetooth enabled tracking devices, suggests Apple analyst Ming-Chi Kuo, is that new iPhones will integrate Ultra Wide Band (UWB) tracking technology into existing apps to locate these tags with improved precision, down to the nearest 5 -10 centimeters.
See also: iPhone 11 Event: 3 Ways Apple's Next Phone Could Wow Buyers
According to the European Telecommunications Standards Institute, UWB technology uses low-energy, high-bandwidth radio waves to communicate between devices with short pulses of information. The low energy allows this technology to carry its information without interference from other devices near its range, and the high bandwidth allows more data to be sent over a shorter distance, which in turn enables two devices communicating with UWB to provide more precise location information.
However, the precision of UWB for communication and tracking drops off beyond distances of a few meters, according to Lifewire, and Apple Insider reports that it remains unclear if iPhones will also track these new tags using Bluetooth and wifi as well. Doing so would certainly make them more compatible with older generations of iPhones.
See also: iPhone 11 Event: What to Expect at Apple's Feature-Packed Smartphone Launch
As for how UWB and Apple tags would be used in practice, from internal comments in code obtained by MacRumors, and backed up by Kuo, the use of UWB will be integrated into existing location tracking apps in iPhone 11s, including Apple Maps and the Find My app (which merges Find My iPhone and Find My Friends into one.)
Comments left in the code suggest that the Find My app will now have a new "Items" section for tracking these Apple tags. MacRumors reports that users will receive a notification when they've been separated from their Apple-tagged items, except for when items are still within a user designated "Safe Location," e.g. your bedside table.
Once a user is alerted that they've been separated from their item, they can press a button to generate a chirp from the tag in order to locate it or, if unable to find it, they can activate "Lost Mode." (Anybody who frequently pings their iPhone from their Apple Watch might be familiar with this experience.)
Once lost mode is activated, the tag will take advantage of the kindness of passersby — who have the iPhone 11 — to have a chance at returning to its rightful home again. Exactly how this will work in practice is still unclear, but the obtained code seems to show that iPhone users will receive a push-notification when they discover a lost tag, and that will prompt them to contact the original owner. The owner, in turn, will be alerted when another user has found their lost tag.
Will this prevent theft of the lost items? Almost certainly not, but at least there's a chance they might find their way back home.
And while there is a clear convenience to linking the location of our everyday items to our phones, in this day and age there is still always the looming uncertainty of how a company like Apple might really use our location data, or what third-party might should it ever be leaked. Apple tags are not necessarily ground-breaking technology in this regard, but with every Terms of Service page we scroll past when consenting to such tracking, the potential risk continues to mount.