iPhone 2020: Apple's Next Redesign Could Bring Back a Much-Loved Feature
The device could give something fans have been pushing for.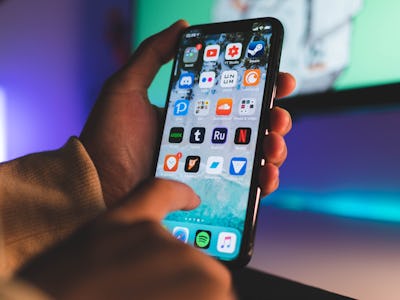 Unsplash / dhe haivan
All eyes are on Apple's next smartphone launch, expected to take place Tuesday, but rumors are swirling around the company's iPhone plans for 2020.
Two reports last week suggest Apple will bring back the fingerprint scanner for next year's device, albeit as an under-screen sensor as opposed to the button-based design that debuted on the iPhone 5S in 2013. Bloomberg states the company is developing the technology for inclusion as early as 2020, but noted the timeline could slip into the following year. Apple analyst Ming-Chi Kuo claimed in a report that the development process may take 18 months, which could place a launch further into the future.
It's the latest in a number of rumors about the 2020 device, which suggest the company is planning bigger changes for the following year's model than it is for this year's release. Apple has gradually shifted from a two-year design cycle to something closer to three years, as consumers hold onto devices for longer and the company looks toward alternative revenue sources like services and wearables.
The 2020 iPhone, which could be unveiled around 12 months from now, could be the first major redesign of the iPhone since 2017.
iPhone 2020: Features Expected in Apple's Next Launch
The new iPhone could cover new screen sizes. Rumors suggest the device could offer a hand-stretching 6.7-inch model, a 6.1-inch model like current designs, and a 5.4-inch model. The screens could also feature double the refresh rate at 120 Hz. 5G connectivity, expected to miss the 2019 launch, could debut in 2020. OLED displays are expected to make their way across the entire lineup, removing LCD from the cheapest models. A time-of-flight sensor, used for depth measurements on the rear camera, could also boost augmented reality.
The return of the fingerprint sensor may seem curious considering Apple's marketing around Face ID. The company debuted the face scanner in 2017, promising heightened security versus Touch ID. Phil Schiller, Apple's senior vice president of worldwide marketing, said at the feature's launch that it "can't be spoofed." Where Touch ID ran a one in 50,000 chance that someone could unlock a user's device with their fingerprint, Face ID increased this figure to one in a million.
But there are some situations where a fingerprint scanner could offer benefits. It could enable users to unlock their phone without looking at it, or in situations where their face is covered or otherwise unreadable.
"We recognize that under-display fingerprint recognition is key for full-screen designs, and we don't think that facial recognition can fully replace fingerprint recognition," analyst Ming-Chi Kuo stated in March 2018.
The scanner would need to hide under the screen if Apple wanted to maintain its new design. One of the first phones to offer this was Vivo, which in 2017 debuted a prototype that used ultrasonic technology to hide the scanner under OLED displays up to 1.2 millimeters thick. The list has since expanded to cover flagship devices like the Huawei P30 Pro and Samsung Galaxy S10+. Face ID may have impressed viewers at its debut, but the market suggests there's still interest in using a finger to unlock a phone.
iPhone 2019: What to Expect From Apple's Lineup
Apple's 2019 lineup is expected to be unveiled Tuesday at the Steve Jobs Theater in Cupertino, California. The lineup, which may sport the name "iPhone 11," is expected to cover three devices: a 6.1-inch LCD version to upgrade the iPhone XR, a 5.8-inch OLED model to replace the iPhone XS, and a 6.5-inch OLED model that offers a premium upgrade to the iPhone XS Max.
These devices are expected to offer faster processors and one extra rear camera sensor, which would total two for the low-end model and three on the high-end model. Other rumored changes include better waterproofing, support for ultra wideband connectivity, Wi-Fi 6, the removal of force-sensitive 3D Touch, and better low-light performance.
These changes, although welcome, are relatively modest. Apple traditionally changed the design of its iPhone every two years, where the iPhone 3G, 4 and 5 shared the same design as the following year's device. The iPhone 6 that launched in 2014 carried over the design to the 6S and 7 two years in a row. The iPhone 8 also rocked a similar design, but launched alongside the iPhone X that brought big changes like face recognition and no home button.
This shift came at the same time that consumers held onto their phones for longer. A Kantar study in 2017 found American users held onto their phones for 20.5 months in 2013, but three years later they were holding onto their phones for 22.7 months.
With this in mind, it perhaps makes sense that Apple's 2020 iPhone is set to impress.