Musk Reads: Musk Teases New Tesla Features
Plus, full self-driving detailed further and Model S upgrades seem distant.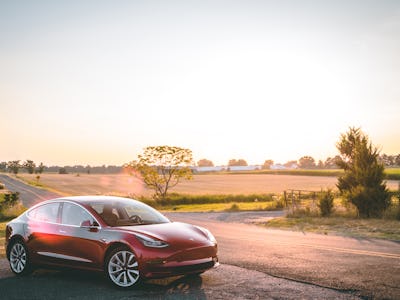 Unsplash / Vlad Tchompalov
Tesla's full self-driving gets detailed; Model S and X upgrades look distant; Spotify may come to the vehicles. It's Musk Reads: Tesla Edition #86.
A version of this article appeared in the "Musk Reads" newsletter. Sign up for free here.
Musk Quote of the Week
"I'm feeling 🍀 & I'm feeling 😋 navigation buttons coming with next software release."
Tesla
Tesla's full self-driving system could cost a pretty penny, Musk explained this week. The CEO stated that while consumers will still be able to buy a Tesla once it launches, the clearing price will soar sky-high, as it will need to balance supply and demand. Tesla has already started shipping the Hardware 3 computer designed to enable full autonomy, and it's made the bold claim that it will have 1 million robot taxis on the road by the end of 2020 as a competitor to Uber. Read more.
Musk also poured cold water on the prospect of an upgraded Model S and X. The firm's two premium versions were rumored to receive a refresh to make the interior look more like a Model 3, albeit with an instrument cluster screen behind the steering wheel. Another rumor stated the Model S would soon offer more than 400 miles of range. Musk categorically stated that "there is no 'refreshed' Model X or Model S coming, only a series of minor ongoing changes." He also claimed that there was no interior refresh happening any time soon, or any plans to discontinue the cars. Read more.
A series of software updates could make the Tesla better than ever. Musk teased a new "I'm feeling lucky" button, which would take users to a random place traveled by other Tesla owners. Musk also gave the thumbs-up to Spotify integration for American cars currently stuck with the Slacker service due to a deal. Read more.
Elsewhere in the world of electric cars, Toyota took the wraps off a new Prius solar-powered hybrid car. The vehicle uses panels with 34 percent-plus efficiency to add up to 35 miles per day to the battery. It comes as Sono Motors gears up to start manufacturing a 158-mile electric car that can add 21 miles per day through its solar panels. The Lightyear One, another competitor, promises 7.5 miles per hour of extra range from its solar panels. Musk previously dismissed solar panels on a car as "not that helpful." Read more.
On Wednesday, MotorTrend magazine bestowed the honor-of-honors on Tesla when it named the 2013 Tesla Model S as its "Ultimate Car of the Year," a distinction that means the sedan had the biggest impact in its debut year out of all the years the Car of the Year award has been given, going back to 1949. "No vehicle we've awarded, be it Car of the Year, Import Car of the Year, SUV of the Year, or Truck of the Year, can equal the impact, performance, and engineering excellence that is our Ultimate Car of the Year winner," writes MotorTrend's Scott Evans in a blog post announcing the news.
What's next for Tesla: Tesla is preparing to increase car production, Bloomberg reports. It comes as work continues on the Shanghai facility, which could help Tesla produce a staggering half a million cars in 2019. Those figures could pale in comparison to what comes next, as the firm predicts it will eventually produce 1 million Model Y vehicles alone per year.
Video of the Week
Tesla Model 3 takes on the Alps:
The Ultra-Fine Print
This has been Musk Reads: Tesla Edition #86, the weekly rundown of essential reading about futurist and entrepreneur Elon Musk. I'm Mike Brown, an innovation journalist for Inverse.