The Tesla Model S Could Be About to Cross a Crucial Electric Car Milestone
Range anxiety is about to become a thing of the past.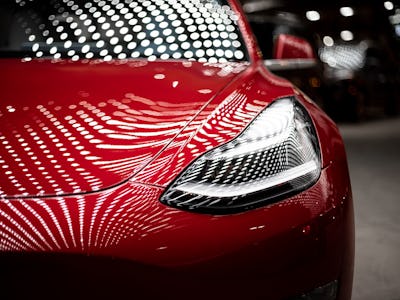 Unsplash / Vlad Tchompalov
Tesla looks set to break another milestone in its bid to transition the world away from gas-powered cars. The company is rumored to be planning an upgrade to the Model S sedan that will boost its battery range past the 400-mile mark, which could further reduce "range anxiety," and mean that the Model S will be able to complete a single-charge trip from San Francisco to Los Angeles.
A video published Wednesday claims that Tesla is currently testing refreshed versions of the Model S and Model X SUV in the Mojave desert. These new variants are aiming for an EPA-rated range of more than 400 miles for the Model S, and nearly 400 miles for the Model X. The video, published on the YouTube channel "Like Tesla," claims the new version could potentially launch in the third quarter of this year.
Crossing the 400-mile range milestone is a major leap forward for electric cars, as automakers seek to boost range and reassure more consumers that electric cars can fulfill all their automotive needs. While gas-powered cars can rely on a dependable global system of pumping stations that can fill a car in minutes, electric vehicles do not yet have the same infrastructure, and their owners still express concerns over their range per charge.
Alleviating these fears could be the hardest part of encouraging mass adoption. Once people actually try the cars, research from Oxford Brookes University shows that people who have experience with electric cars tend to feel more positive overall about the technology. It's also unlikely that people will need too much range in daily use, as research from Sono Motors shows the average commute in Germany is just 10 miles.
Tesla could help lead the charge in changing attitudes. It made headlines in April when it launched what it claims is the longest-range production electric vehicles on the road, reaching 370 miles on the Model S and 325 miles on the Model X using a 100-kilowatt-hour battery pack. This new refresh is expected to beat those numbers by using a higher-capacity battery and making changes to the battery's overall design.
Of course, range is just one side of the electric car equation. Tesla's global network of over 10,000 superchargers, which recharges the company's cars in a matter of minutes, received an update in March as part of a third-generation re-design. It doubled the power of its predecessor at 250 kilowatts. The high energy throughput means a car can add 1,000 miles of range per hour of charging. The rumored new Model Ss are expected to also support these maximum recharge speeds.
Tesla Model S and X Refresh: What's New
The video, which cites a source that has worked with Tesla for most of the past decade, claims that the boost comes from a lighter and larger battery pack. The battery is expected to weigh 350 pounds less than its predecessor. However, it is unclear whether the pack will use the 2170 cells found in the entry-level Model 3 sedan, with the source only referencing a new battery design.
Tesla has been putting these cars through their paces with extreme heat testing in Death Valley and Arizona. The batteries have a new cooling mechanism to help tackle these conditions, which could help them offer more consistent performance.
As rumored, the vehicles are also expected to offer an interior closer to the Model 3 than current cars. When the company's cheapest-ever car launched in July 2017, it featured a single landscape touchscreen in the center of the dashboard and no instrument cluster. It's unclear how much inspiration the Model S and X will take from this, but the portrait-oriented screen of current cars could be on the way out.
The refresh is also expected to offer a tri-motor design, similar to the $200,000 second-generation Roadster expected to launch next year. Current tests involve a "micro-motor" in the front and two larger motors in the rear. Both standard and performance variants are under testing, meaning enthusiasts may have a new most-coveted electric car on the way.
As attention turns to the Model Y compact SUV revealed earlier this year and the Pickup Truck expected later, it seems Tesla may have some more surprises up its sleeve for its future vehicle roster.
With the robo-taxi autonomous service set to launch next year, the new Model S could arrive just in time for ambitious automated road trips.