'Dark Phoenix' Post-Credits Scene: What It Means for the Next X-Men Movie
Here's what it means for the (actual) last Fox X-Men movie.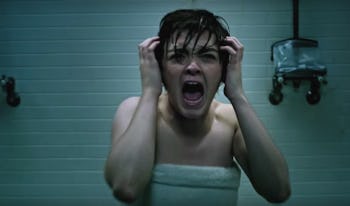 20th Century Fox
Dark Phoenix might feel like the end of Fox's X-Men cinematic universe but it's actually not. There's one more movie set to release: the oft-forgotten horror flick New Mutants. So does Dark Phoenix tease the next X-Men movie in a post-credits scene? Here's what you need to know.
Already seen Dark Phoenix? Read our spoiler-filled breakdown right here.
As you've probably figured out if you're still sitting in the theater after watching Dark Phoenix, there's no post-credits scene. No teaser for what's coming next. No moment for the movie's star, Sophie Turner, to pass the X-Men torch to her Game of Thrones co-star Maisie Williams, who plays the character Wolfsbane in New Mutants.
What does this mean? Well, it's definitely not good news for the beleaguered New Mutants, which was recently delayed for the second time after Disney pushed its release back to April 3, 2020 to accommodate reshoots. The fact that Dark Phoenix doesn't even nod to the next X-Men movie suggests Fox/Disney couldn't care less about it — though there might be an extremely subtle connection between the two films.
Then again, maybe the lack of a post-credits scene is less about ignoring New Mutants and more about trying to provide some sort of finality to Fox's two-decade X-Men saga. By skipping the usual post-credits teaser, Dark Phoenix really does frame itself as the end of the story, similar to Avengers: Endgame and it's subtle post-credits sound.
That may be a nicer way to look at things, but it's still bad news for anyone excited to see New Mutants. The movie features a talented young cast including Anya Taylor-Joy as Illyana Rasputin/Magik, Charlie Heaton (Stranger Things) as Sam Guthrie/Cannonball, Henry Zaga as Roberto da Costa/Sunspot, Blu Hunt as Danielle Moonstar/Mirage, and Alice Braga as Cecilia Reyes. Also, Jon Hamm was original set to play the iconic X-Men villain Mister Sinister, but was apparently replaced by Antonio Banderas in an unannounced role (yeah, this movie is a total mess.)
New Mutants actually looks like a pretty cool movie, at least based on that initial, horrifying trailer. Whether the final version bears any similarity is up for debate, especially now that Disney is involved and reshoots are in the works. And at the end of the day, it could get dumped on Disney+ or Hulu, or just disappeared entirely.
After all, if Disney/Fox wanted to reassure fans that New Mutants really was still happening, the studio would have teased it in a Dark Phoenix post-credits scene, right?
Dark Phoenix is in theaters now. New Mutants is scheduled for release on April 3, 2020.