WWDC 2019: Apple Might Tease New Hardware With Game-Changing AR Features
There could be a lot more than iOS in store this year.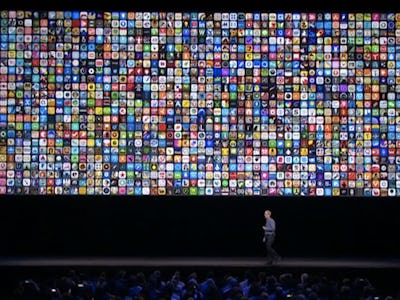 Apple
Apple is expected to take the wraps off of iOS 13, macOS 10.15, and reveal the latest updates to the watchOS and tvOS software during WWDC 2019 on June 3. Developers who create apps for Apple devices have flocked to the annual conference every year to learn more about how to take advantage of the company's next-generation operating systems. It's typically a pretty wonky affair, though this year WWDC attendees might be in for more of a surprise.
Ever since Apple began encouraging developers to start creating augmented and virtual reality apps using its ARKit tool in 2017, it has become a touchstone part of WWDC. Last year, Apple rolled out ARKit 2.0, which gave coders even more power to overlay virtual pizzazz on the real world. As Apple continues scaling up its AR ecosystem, the next step may have to involve hardware. With Apple's augmented reality glasses scheduled to drop next year, developers will need insights into how to create the apps and experiences that will run on them. For that reason, WWDC 2019 could include an uncharacteristic hardware introduction.
In a Monday report, 9to5Mac published a list of tools that Apple will release to developers come June. Buried in the details was the tidbit that ARKit will begin supporting controllers with touch pads and stereo AR headsets. The AR tool will also get the ability to detect human poses, which pretty much sets the stage for Apple to introduce its own augmented reality headset.
These new capablities could enable full-body Animojis and lay the ground work for full AR games that will eventually come to Apple Arcade, the company's newly announced gaming platform subscription service. And the time to begin creating those applications is rapidly approaching.
Trusted Apple analyst Ming-Chi Kuo and veteran Apple reporter Mark Gurman both forecasted that Apple would launch its AR glasses on a non-specified date in 2020. If that time frame proves to be true, that would leave Apple with a year to begin getting developers to make AR glasses apps or risk not having any third-party apps at launch.
Supporting an entirely new hardware category could also mean releasing a separate operating system specifically made for headsets and glasses. Gurman's report claimed that the glasses are in development under the umbrella codename "T288" and that they will run using an operating system called "rOS" short for "reality operating system."
The report suggests Apple is experimenting with a variety of control methods, including hand gestures, head movements, and Siri voice commands. Gurman went on to say that the company is also considering an "rOS App Store" with a roster of AR tools and experiences.
All of these new capabilities might use the iPhone as an engine. The Cupertino-based company has filed a number of patents suggesting that the glasses would be an iPhone accessory, just like the Apple Watch and AirPods.
The most recent contiuation patent published on April 19 laid out plants to use a gesture control system that would be enabled by a built-in accelerometer and that can detect head motions.
Gesture controls and headwear are very new territories for Apple. It will have to begin educating developers about these new functions this year. All that's left to see, then, is whether Apple fully announces their headset or if they plan to continue building up its capabilities in stealth.