macOS 10.15: Release Date, Name, and Features Coming to Apple Computers
macOS and iOS could be joining forces.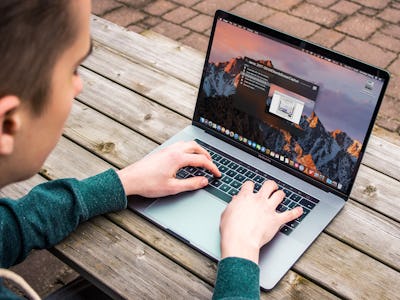 Unsplash / Bram Naus
Apple is about to take a big step toward finally bridging the gap between its two marquis operating systems: its desktop macOS and the iOS used for iPhones and iPads. The tech giant's Worldwide Developers Conference, already scheduled for June 3 in San Jose, California, is expected to introduce long-awaited features to both iPhones and iPads. If the latest feature rumors play out, then merging these two disparate ecosystems will be the conference's main theme.
The Cupertino-based company has yet to say a word about upcoming software features, and it will probably keep its lips sealed until WWDC. But anonymous sources familiar with the upcoming macOS 10.15 update told 9to5Mac some of the headlining features that will begin appearing on up-to-date Macs of all sizes some time later this year.
These rumors are pretty trustworthy. After all, this upcoming macOS update has been in the works for about two years, which is typical for Apple's software cycle. Hints of iOS 13 first started being spotted by journalists seven months before iOS 12 was rolled out. So it's safe to say that Apple was already hard at work on 10.15 when they introduced macOS Mojave at WWDC 2018.
Here's everything Apple has in store for its next desktop OS, and when it will likely be available to users in the form of a free software update.
macOS 10.15: Release Date
Apple will debut the new software's biggest features and changes at WWDC 2019, and give developers their new software development kit (SDK). But the benefits won't be passed to Mac consumers until the fall.
Every macOS update since the release of OS X 10.11 "El Capitan" in 2015 has been released in September, usually right on the heels of Apple's annual iPhone keynote. But interested users that don't mind a few bugs will likely be able to sign up for the public beta.
Last year, Apple gave beta testers access to an early version of Mojave within a few weeks of WWDC 2018. The company will likely do the same for macOS 10.15. Anyone interested can sign up for Apple's beta software testing program by signing up with their Apple ID.
macOS 10.15: Potential Name
It's still unclear what Apple will name the next version of macOS. It's exponentially more difficult to speculate since the software is given a proper noun as a name, instead of a number like new iPhone models.
The previous five versions have followed a Southwest naturalist motif: Mojave, High Sierra, Sierra, El Capitan, and Yosemite. But Apple has also swapped between animals and landmarks, so there's really no telling where they're going next.
MacRumors recently complied a list of trademarked names that Apple has yet to use that seem in the running for macOS 10.15's monicker: Redwood, Mammoth, California, Big Sur, Pacific, Diablo, Miramar, Rincon, Redtail, Condor, Grizzly, Farallon, Tiburon, Monterey, Skyline, Shasta, Sequoia, Ventura, and Sonoma have all been trade-marked.
macOS 10.15: Marzipan Begins
One of the biggest changes coming to both iOS and macOS is the introduction of Apple's mysterious "Marzipan" software. The new software development tool is supposed to enable developers to begin coding single apps that work seamlessly across both macOS and iOS without having to re-optimize.
Currently, app makers and even Apple itself need to continuously optimize various versions of the same app if they want them to function on both iPhones and MacBooks. This also means that many popular iOS apps aren't available on macOS because the process is too cumbersome for independent and smaller developers. While Marzipan isn't expected to be completely implemented until 2021, most of Apple's big development changes will look ahead to it with by reducing the friction between the two different ecosystems.
Marzipan is an under-the-hood change that won't directly affect users in readily apparent ways. But down the line, it will open up the doors for Apple and third-party developers to introduce a plethora of cross-platform apps.
macOS 10.15: Siri Shortcuts
One of the biggest improvements to MacOS will take a cue from Siri, which got some major improvements to its voice assistant capabilities last year when iOS 12 introduced Siri Shortcuts. The feature enables users to create their own custom commands by bundling other Siri capabilities in into unique combinations. Users could, for example, tell Siri they're "heading home" and Siri would summon commute details and turn on the next episode of your favorite podcast.
9to5Mac reports that a Marizpan version of Siri Shortcuts could be available for download in the Mac App Store. This would allow users to use the Shortcuts they created on their iPhone and make them work on certain Marzipan-supported macOS apps. This way, the commands users create on the phone have utility outside of just their mobile devices.
Engineers who were interviewed about the new MacOS also revealed that Siri is scheduled to become much more useful on laptop and desktop computers. Features that let you set timers, alarms, and even to inquire about air quality might be coming to macOS.
macOS 10.15: Screen Time
Another one of iOS 12's biggest changes will be coming to Macs: Screen Time, a feature meant to track how much time users spend both staring at their phone but also at specific apps, is coming to macOS.
Much like the mobile version, Screen Time for Mac will break down which programs and even which sites users spend most of their time on. It also enables interventions, and will give users the option to limit the total amount of time they can spend on certain apps and sites.
This will be especially useful for parents that don't want their children spending every waking moment online. But it will also have the potential to help anyone who uses a computer to work and has trouble focusing.
There are already good productivity tools offered though third-party apps like SelfControl, which actually lets users set hard limits on the amount of time they can spend on a certain app or site when they're trying to get some work done. With the change, Mac users will soon be able to do that natively without having to install another program.
Screen Time will also receive its own menu in System Preferences where users can configure the feature to limit how much time they spend on their computer.
macOS 10.15: iMessage and Apple ID Management
9to5Mac also caught wind of two, smaller features that will be coming to macOS 10.15. One of these is iMessage effects — you know, the little confetti, lasers, fireworks and other animations that appear in the iOS Messages app when someone texts something like "congratulations!" This will now work when you're using iMessage on a desktop.
Finally, Apple is also bringing a new ID management menu to System Preferences. This has been said to let users better customize their Family Sharing options when multiple people share the same computer. This fix seems mostly geared to preventing kids from going on app spending sprees with their parents' Apple ID if they're signed into their account.
Apple computers might look a feel a lot like the iPhone after WWDC 2019. If you're a chronic Twitter-checker or the parent of a Angry Birds-loving kid, these changes are going to be especially welcome.