'Rick and Morty' April 1 Stunt Would Be the Perfect Way to Launch Season 4
April Fool me once, shame on you. April Fool me twice ... please April Fool me twice?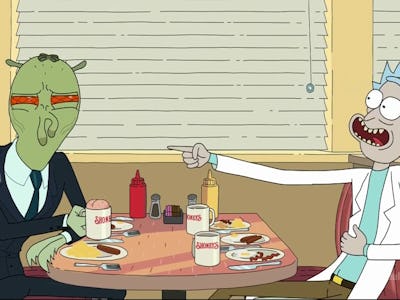 Adult Swim
March 2017 was a tough time for Rick and Morty fans desperate for news about Season 3. History's repeating itself in March 2019 as the wait for a Season 4 release date. Could that mean we're all due for another shocking surprise on April Fools Day 2019? We sure hope so.
The coolest thing Rick and Morty fans had to play with in March 2017 was a really weird point-and-click Instagram adventure game called the Rickstaverse. There was also Pocket Mortys, except this was long before the Pokémon knockoff got really good. April 1 fell on a Saturday night when almost everyone was busy doing Saturday night things, so when I got a text message from a friend saying the Rick and Morty Season 3 premiere was airing, I laughed it off like so many others did.
"lol," I probably texted back. "I know it's April 1. I'm not an idiot!" Except it was somehow real, and "The Rickshank Rickdemption" aired on a continuous loop on Adult Swim and on a livestream on the website between 8 p.m. and midnight
WTF!?
"If you used the internet that night, you couldn't avoid something about Rick and Morty," Justin Roiland told The Wrap months later. "It was a moment in the show's history where [it] was unavoidable."
Originally, Rick and Morty co-creators Dan Harmon and Justin Roiland didn't even want to surprise viewers with the Season 3 premiere in 2017. The Wrap reported a few months later that it was actually Adult Swim's executive vice president and creative director Mike Lazzo who thought up the whole stunt.
"I was absolutely terrified that it would be a complete fumble," Harmon said. "I just kept thinking 'we're going to unceremoniously say that our premiere is a joke.'"
"The idea of doing it on April Fools' was such a funny idea because the fans would be texting each other 'hey, this episode that we've been waiting for so long and begging the creators, harassing the creators for answers as to when it's going to air, is on television right now," Roiland said.
That's exactly what happened.
Thanks to the roughly two-year gap between Seasons 2 and 3, impatient fans evangelized the series through word-of-mouth as viewers new and old binged the series online. By the time the rest of Season 3 began airing during the summer of 2017, they'd all become so zealous that Rick's memed obsession with Szechuan sauce compelled McDonald's to resurrect a 20-year-old condiment.
The point here is that given the absence of any legitimate news about Season 4 recently, it seems totally plausible that Adult Swim might be planning something to fill that void on the two-year anniversary of its unforgettable April Fools' Day 2017 stunt.
Will the Season 4 premiere air as a surprise on April 1 like the Season 3 premiere did two years ago? Probably not. But it seems possible that something might happen on April Fools' Day.
A trailer? A release date announcement? Both? We're long overdue for something better and more legit than Justin Roiland calling the new episodes "preeeetty great."
No rational person could've expected anything related to Season 4 to happen this time last year. Rick and Morty wasn't even officially renewed for 70 more episodes until May.
That's why, instead of anything actually related to Rick and Morty only six months after Season 3 ended, Adult Swim released a horrible short animated video called "Bushworld Adventures," spoofing Rick and Morty in the Australian Outback by focusing on the show's more unsettling aspects and neglecting all the fun-loving sci-fi. It was a cringeworthy epic troll for Rick and Morty's more unsavory fans — and they deserved it, especially after a huge number of sexist trolls harassed some of the Rick and Morty writers during Season 3.
2018 was a very different time for Rick and Morty compared to right now. Perhaps in an effort to mitigate toxicity amongst fans of the show who continue harassing its creators, offering something like a Season 4 trailer on April 1 would be the perfect offering to hold us over as the wait continues.
Rick and Morty Season 4 is expected to release sometime later this year.