Here's a Cure for Your 'Ricky and Morty' Season 3 Hangover
It's right in the palm of your hand, and no it's not medicine.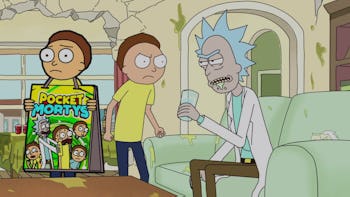 Adult Swim
In the infinite multiverse of Rick and Morty, there's a universe where Season 4 has already started, but for the sad folks here on our Earth, the next best thing to cure your Season 3 hangover is the official Rick and Morty game: Pocket Mortys.
Season 3 may have ended, but developer Big Pixel Studios announced Thursday that new updates for the mobile game will continue through 2018. If you're thirsty for more Rick and Morty, then Pocket Mortys might be the best and only place for you to get it.
Pocket Mortys is a free Pokémon clone for mobile devices where you play as Rick and all your Pokémon are a seemingly endless array of Morty variants. Throughout Season 3, weekly updates included characters from new episode. Did you love Armothy in "Rickmancing the Stone"? Awesome, because there's a Giant Arm Morty you can capture and battle with. By now, there's a Cucumber Morty, a Pickled Morty, and yes, a Pickle Morty. There's also plenty of more generic variants not tied to episodes, like Stray Cat, Two Cat, or Crazy Cat Morty.
Even though Rick and Morty Season 3 has ended, Pocket Mortys will get continuing updates through 2018 that will eventually add up to 50 new characters.
In addition to new and exciting Mortys, updates like the incoming additions continually bring in new playable characters. The main story mode has you play as Rick to capture Mortys, but in the multiplayer version of the game — which integrates player-vs-player experiences better than any Pokémon game — your player avatar options include everyone from Pickle Rick to Mr. Poopybutthole.
The latest update on October 16 featured some fun new additions:
The only thing that could be better than playing Pocket Mortys for the next year or so would be if there are more Rick and Morty episodes coming as soon as this Christmas, which some people think.
Pocket Mortys is available iOS and Android devices.