Adult Swim's 'Rick and Morty' Parody Is the Season 4 We Deserve
Say hello to the Dumpster fire that is 'Rick and Morty' on April Fools'.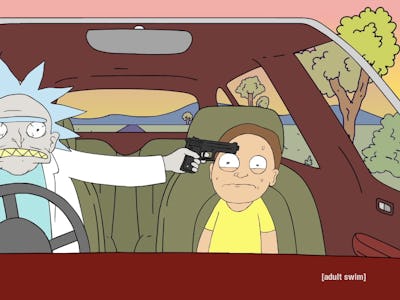 Adult Swim
There's a dimension out there in which the Smith family from Rick and Morty is a bunch of rage-fueled Australians, and this April Fools' Day, Adult Swim unleashed this horrifying universe on us all instead of anything legitimately related to Season 4. Crikey, mate.
On April 1, Adult Swim released a short Rick and Morty parody called "Bushworld Adventures" that showcases the most problematic and unsettling aspects of the show while omitting the charming humor and fun-loving sci-fi. The end result is total nightmare fuel drawn with some janky animation that makes the whole thing hard to watch.
Last year, Adult Swim famously surprise released the first episode of Rick and Morty Season 3, but now, it looks like the network is trolling the Rick and Morty fanbase harder than ever by giving us a totally unpleasant anti-Rick and Morty. Rick Sanchez is more insane than ever, putting a gun to Morty's head to threaten murder-suicide. Everybody looks drugged out. It takes the satirical elements from Rick and Morty far beyond their breaking point, accented and exacerbated by emotive animation, harsher language, and some harrowing horror music.
Check it out right here if you want to torture yourself:
The animation is somewhat reminiscent of The Real Animated Adventures of Doc and Mharti origins of Rick and Morty, but it's written and directed by Michael Cusack, a YouTuber and animator most famous for his YouTube series Damo and Darren about two alcoholics. Aussies like Cusack would call those title characters "derros and yobbos", which are vaguely offensive terms that basically amount to drug-addled social derelicts. Cusack basically took that model and applied it to Rick and Morty here for these seriously disturbing results.
A certain contingent of the Rick and Morty fanbase is notoriously cringeworthy, rioting over a mediocre McDonald's sauce, bashing the show's creators online, and even harassing the show's female writers with misogynistic language. It's only fitting that Adult Swim would unleash this hellish parody upon them instead of finalizing a deal with co-creators Dan Harmon and Justin Roiland to actually make a fourth season of the show.
So if you hate this, know that maybe some Rick and Morty fans out there totally deserve it.
There is no premiere date for Rick and Morty Season 4 yet, and there probably won't be for a while.