'Rick and Morty' Creator Dan Harmon Justly Hates Some of His Fans
He has every right to loathe the kind of people who harass women online.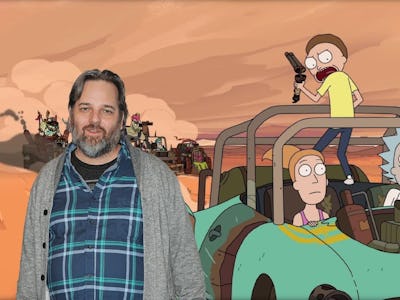 Paul Archuleta / FilmMagic / Adult Swim
Dan Harmon — the co-creator of Adult Swim's animated sci-fi hit Rick and Morty — really hates a certain portion of his fans, and they totally deserve it.
Harmon and co-creator Justin Roiland intentionally diversified the Rick and Morty writing staff by bringing in a number of female voices for Season 3. Unfortunately, a misogynistic portion of Rick and Morty fans don't like the more sophisticated and thoughtful shift in the show's tone because they've taken to harassing and even doxxing female writers like Jane Becker and Jessica Gao.
Dan Harmon let loose in an interview with Entertainment Weekly, saying, "I loathe these people." And, yeah, they probably deserve his loathing.
Harmon explained that "part of it is a testosterone-based subculture patting themselves on the back for trolling these women." Harmon believes that "these knobs … want to protect the content they think they own — and somehow combine that with their need to be proud of something they have, which is often only their race or gender." But fans don't own this content.
There exists a long, documented history of overzealous Rick and Morty fans harassing the co-creators about the long-delayed Season 3, including a recent jab at the end of "Morty's Mind Blowers." But this is an even more problematic issue.
Harmon calls the behavior "disgusting" and tries to rationalize why men harass women online: "Because to the extent that you get can get a girl to shriek about a frog you've proven girls are girly and there's no crime in assaulting her with a frog because it's all in the name of proving something."
Harmon blatantly admits, "It fucking sucks." But he also acknowledges that these trolls are hopefully a small percentage of the Rick and Morty fan base: "And the only thing I can say is if you're lucky enough to make a show that is really good that people like, that means some bad people are going to like it too."
Morty's sister, Summer, took the lead in an episode set in a Mad Max universe that mocked hyper-masculinity. And this season's penultimate episode is all about their mother Beth's childhood in a bizarre, colorful world Rick made for her. These are dynamic, interesting characters that fans care about, and they're finally getting the stories they deserve.
What's truly ironic is that Jessica Gao, one of the writers targeted by online harassment, is the person on the Rick and Morty writing team who all the edgelords out there have to thank for the hyper-violent "Pickle Morty."
If you can worship the ostentatious glorification of violence in "Pickle Rick" but then turn around and doxx the woman who wrote the episode, then you're part of the problem.
Yep, a certain kind of Rick and Morty fan is definitely the villain of Season 3.
Rick and Morty Season 3 airs Sundays on Adult Swim at 11:30 p.m. Eastern.
If you liked this article, check out this video on four Rick and Morty fan theories you should know about.