'Rick and Morty' Exists Because Its Creators Are Huge Trolls
There's a good reason why the duo reminds you of 'Back to the Future.'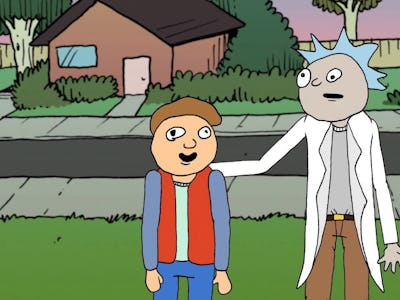 The most diehard of Rick and Morty fans know that the show's creation is rooted as something of a Back to the Future parody, but few truly understood the extent of how obnoxious that parody really was — until now. As it turns out, the journeys of Rick and Morty started out as the adventures of Doc Smith and Mharti McDonalds in an obvious troll to the big movie studios that would inevitably go after such an obvious rip-off.
While a lot of people are looking forward to the rest of Season 3, YouTube channel The Film Theorists looks at the origins of Rick and Morty as part of their Did You Know Movies feature.
Rick and Morty co-creator Justin Roiland was just looking to do some trolling when he created the show. Roiland specifically meant to create an animated series called Back to the Future: The New Official Universal Studios Cartoon Featuring the New Doc Brown and Marty McFly just to infringe upon copyrights laws and troll Universal Pictures, most likely inciting a rabid frenzy and spurring them to issue a cease and desist.
See also: When is Rick and Morty Coming to Netflix?
Check out the video here, which offers even more details about Roiland and the origins of Rick and Morty:
The video also offers details about the inspiration behind the show's opening credits theme song and its aim to be an auditory fusion of Doctor Who with Farscape.
There's a long and storied history about Rick and Morty constantly riffing on other properties, especially in naming its episodes. There are also obvious examples of the show satirizing copyright law as well, especially in episodes like "Lawnmower Dog" when Rick calls Scary Terry "some sort of legally safe knock-off of an '80s horror character with miniature swords for fingers instead of knives!"
But for now, treats like this hold us over while we endure the long wait for Season 3's second episode this summer.