'Captain Marvel' Critics Reactions Are Out and 'Umbrella Academy' Is a Hit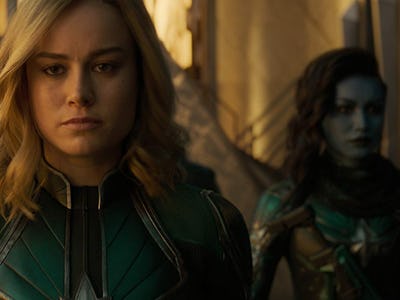 Marvel
Captain Marvel critics reactions are out … Catch up before the Oscars on Sunday … And Netflix's Umbrella Academy is a bizarre superhero hit.
I'm Corey Plante, a staff writer at Inverse, and this is Multiverse, your twice-weekly, curated guide to the biggest stories in entertainment.
This is an adapted version of our Multiverse newsletter, a twice-weekly digest of our essential stories from the geek galaxy. Sign up for free here.
Social media reactions from the first Captain Marvel screening were posted this week, and the praise for the upcoming movie is nothing short of effusive. While everyone seems to love Brie Larson as Carol Danvers, Ben Mendelsohn's shapeshifting villain Talos is the real scene-stealer, along with Goose the cat. Read more.
Early reactions to the Captain Marvel villain make it seem like Talos might be one of the MCU's most interesting evildoers to date. Read more.
"My dream would be that Ms. Marvel gets to come into play in the sequel."
Must Read: Brie Larson "Dreams" of Having Ms. Marvel in 'Captain Marvel' Sequel
Preview the 91st Academy Awards With Our Exclusive Interviews
This year's Oscars ceremony is happening Sunday at 8 p.m. The event will air on ABC, on ABC.com, and via the ABC app. Outside of having cable or an HD antenna, the only other way to watch is with a subscription-based live TV service like DirecTV or wait to watch it on Hulu 12 hours after it airs.
E! Red Carpet coverage begins at 1 p.m. Eastern and runs right up until the start of the show. ABC also has Red Carpet coverage beginning at 5 p.m. Eastern. See every nominee on the official Oscars site.
Read more from Inverse about the various Oscar nominees:
Netflix's Superhero School in Umbrella Academy Is Worth Going To
Labeled as something of a "bleak X-Men story," Netflix's Umbrella Academy adapts comics written by My Chemical Romance frontman Gerard Way. A handful of children born under mysterious circumstances are bought from their mothers by an eccentric billionaire, and as they begin to manifest superpowers, he has them trained to one day save the world. The story is totally weird but also refreshingly different from other superhero stories out there, especially as it jumps forward 30 years to reunite the estranged siblings.
Season 2 hasn't been confirmed just yet, but here's everything we know about it so far.
Anthem Isn't Great Now, but One Day It Will Be
That's not what anybody wants to hear about 2019's biggest video game release so far, but BioWare's third-person, apocalyptic, sci-fi, MMO-ish shooter feels far from complete as it launches February 22. A huge Day One patch addresses a lot of issues, but there's much more to be done. Read more.
Pepper Potts Is Leaving the MCU, So Is Iron Man Dead?
Earlier this week, Pepper Potts actress Gwyneth Paltrow confirmed to Variety that she was leaving the MCU after Endgame. Is this a clue that she and/or Tony Stark might die in the next film? **Read more.
True Detective Season 3's Biggest Villain Could Be One of the Good Guys
The True Detective Season 3 finale airs this Sunday. By now we all know that Wayne Hays was pressured by the business mogul Mr. Hoyt in 1990 after Hays got a little too close to solving the Purcell case. We think that not only was his partner, Roland West, in a relationship at some point with Tom Purcell, but Roland is somehow also being paid off by Hoyt. The big final twist could also involve the revelation that Hoyt had Wayne's wife, Amelia, killed or even kidnapped and imprisoned.
Read our interview with Ray Fisher, who plays Wayne's son in the latest timeline.
If Game of Thrones Boat Sex Leads to a Pregnancy, Then Westeros Is Doomed
Daenerys Targaryen might be pregnant after having sex with her nephew Jon Snow in the Game of Thrones Season 7 finale. This could be good news for her claim to the Iron Throne, but it might also spell doom for Daenerys and everyone else involved. Here's why.
Netflix Just Released Its March Lineup
Netflix revealed what's coming and going from the streaming platform on Wednesday. The new Arrested Development is a highlight, and so is the Trailer Park Boys animated series. Read more.
A Star Wars: Episode IX Trailer Could Come With Captain Marvel
Will the trailer for Star Wars: Episode IX be aired before audiences see Captain Marvel when it opens on March 8? Maybe. Here's why.
Wolverine and Professor X Just Broke a World Record
Hugh Jackman and Patrick Stewart just earned the Guinness World Record for "longest career as a live-action Marvel superhero" for their roles as Wolverine and Professor X in the X-Men movies. Watch the video.
What's Next
On Friday, everyone should be playing BioWare's Anthem and maybe seeing How to Train Your Dragon: The Hidden World or Fighting With My Family in theaters. The first is predictably good, and the second is surprisingly great. For foodies, Friday also has Chef's Table Volume 6 hitting Netflix. On Sunday, don't miss the True Detective Season 3 finale. And on Monday, Archer: Danger Island Season 9 arrives on Hulu.