How the Oscar-Nominated 'First Man' Uses Sound to "Take Your Breath Away"
Film editor Tom Cross explains how the "sonic" experience of 'First Man' aims for total immersion.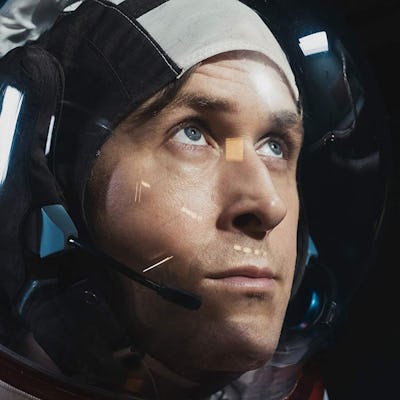 Universal Pictures
First Man, the gripping Neil Armstrong biopic directed by Damien Chazelle, may not be nominated for Best Picture at the Oscars. But the movie is poised to take home awards for Best Sound Editing and Best Sound Mixing thanks to the hard work of sound editors Jon Taylor, Frank A. Montaño, Ai-Ling Lee and Mary H. Ellis and mixers Lee and Mildred Iatrou Morgan. Working together, they created an enthralling sonic experience that simulates the awesome — and many times, terrifying — feeling of going to the Moon.
But none of it would have happened without film editor Tom Cross, who worked closely with Chazelle to bring the director's vision to life.
"Damien's goal was to create sequences to be experiential and immersive," Cross tells Inverse.
A film industry veteran of 22 years, Cross rose to prominence from his work editing Chazelle's 2014 drama Whiplash and the 2016 jazz musical La La Land. His latest film stars Ryan Gosling as astronaut Neil Armstrong in his physical and emotional journey to the Moon. First Man marks a major shift in approach from the duo's last two efforts, in that achieving immersion was the principal goal.
"[Chazelle] wanted the audience to feel what Neil was experiencing," Cross says.
To accomplish this feat, Chazelle and Cross took a two-pronged approach to editing the movie. The first was to shoot and edit like a documentary. Many of the "earthbound" scenes, set in the Armstrong household and at NASA, were shot and edited in "rough" cinema verité style, with harsh snap zooms, pans, and handheld camera movement.
Doubling down on the documentary approach, the filmmakers included hours of improvised moments that featured Gosling and Claire Foy, who stars Neil's first wife Janet Armstrong, "playing house" with the film's child actors. This footage would make up the movie's handful of flashbacks, almost none of which were written in the script.
"He shot two weeks of rehearsal footage of Claire, Ryan, and the kids because he wanted them to be comfortable," Cross says. "He wanted to get all of these people together as if they were a family. He had fully dressed sets, he had the actors in full makeup and hair, and he got them to play house. He felt if we did our jobs right, he'd be showing something the audience had never seen before."
The second approach to editing First Man came from its intricate sound design. This was especially important for the breathtaking climax on the Moon recreating the successful Apollo 11 landing.
"The sound of the Moon and that whole sequence, Damien and I played around a lot," Cross says. "I always try to work with sound effects and design in general. I create a template I can hand off to the sound team so they can improve upon what I've created as a blueprint."
The sound of First Man is all about making viewers "hypersensitive" to the elements. In the edit room, "It's about making room for sound."
For example, inside the claustrophobic space capsules, where the droning hums of air pressure and metal clicks of belts and plugs underscore muffled voices and radio static, Cross leaned into POV shots "out the window, of the gauges, of Neil and the other astronauts sharing looks."
The journey to space is a hellish ride to the stars, despite the way other nostalgic NASA dramas and "antiseptic" sci-fi movies make it seem. To be strapped in a clunky metal box going thousands of miles an hour is nothing like a rollercoaster, and First Man's Oscar-nominated sound played a big part in making that palpable.
As Cross puts it, "I would cut to shots of rivets or closeups of panels on the ceiling of the space capsule so we hear the creaks and groans, and answer that with shots of Ryan's face reacting."
Another scene, in which a house fly appears in the capsule of the Gemini 8 mission, was explicitly made for hypersensitivity. Sitting in a theater with surround sound speakers, you can literally hear the fly buzzing around your head.
"That was a fun way to really put the audience inside the capsule and inside Ryan's head," Cross says "It makes you look around — 'Wait, did I hear a house fly?' — and it makes you hypersensitive to little sounds, which is a great way to tee off this loud, violent, brutal rocket launch. As an editor, that's fun to play with."
Finally, the Moon is where all the elements of First Man collide.
"We got to expand upon the language we built in the other sequences," says Cross.
From the moment the camera exits the capsule, First Man makes a total transformation. Like Dorothy entering a Technicolor world in The Wizard of Oz, First Man transitions from a loud, shaky, 16 millimeter camera view with "quick and messy" editing, into crisp, silent, steadicam IMAX.
"We slow down, allowing you to study the details you're seeing," says Cross. "Because it's in IMAX, you can see the fine grain powder of the lunar surface, see how stark the black sky is. Emotionally, Damien wanted to make you feel uneasy, that you were in a completely different world."
From a sonic level, the filmmakers built up the "deep pressurization" of the air inside the capsule "into almost this cacophonous thing" — which, to cross, "complements" the grainy 16mm footage — only to suck the air and sound out completely in a "crescendo."
"You feel the contrast when you take the sound away. It was really important to Damien that the moment we go through that hatch and we wind up on the moon be a showstopper."
"You feel like you're inside the space suit and you're seeing your hands come down the ladder." - First Man editor Tom Cross
The immersion didn't stop there. Tapping into the ubiquitous imagery of the actual 1969 Moon landing rooted in our consciousness, Chazelle and Cross edited the film to make the audience feel like they were not only present on the Moon, but behind Armstrong's domed helmet.
"We bring the breathing back — that's the first thing you hear," Cross says, "and when the camera pans from the craft to hands coming down rungs of ladder, we bring back breathing. So you feel like you're inside the space suit and you're seeing your hands come down the ladder. Then we start to bring in other sounds, voices, you hear Mission Control."
Editing archival footage of Neil Armstrong on the Moon into the sequence was also more than just an homage.
"We wanted to remind audiences of what they've seen before, and cut back to being on the Moon. The idea was to lean into the subjective quality of it and make you feel like you're actually there."
Also, that's Ryan Gosling saying Armstrong's famous words, "That's one small step for man…"
"It's matched to Neil's speech, but what you're hearing is Ryan Gosling's voice," Cross says. "In preparing for the scenes, he listened to Neil's speech over and over again in his helmet. He tried to replicate how Neil said it. Damien and I worked very closely with our dialogue editor, Mildred Iatrou Morgan, to match the pacing and pauses of the words."
First Man faces stiff competition from films like Black Panther, Bohemian Rhapsody, and Roma this Sunday. But even if the Academy doesn't endow First Man with a trophy, the intricate sound design of the movie remains an accomplishment.
"Damien is great at playing with contrasts, whether they're editing rhythms where you go from fast to slow, or sonic contrasts,he knows that one thing accentuates the other," says Cross. "If you're coming from a loud moment you have an opportunity to tee up what comes next."
Seeing the Moon is a lot like Dorothy seeing Oz.
"Damien wanted to have that same effect. He wanted to take your breath away."