America Saves Neil Armstrong's Spacesuit, Is Pretty Kickass 
The U.S.A. kicked in more than $700k to get the astronaut's outfit in museum quality. 'Mericuh!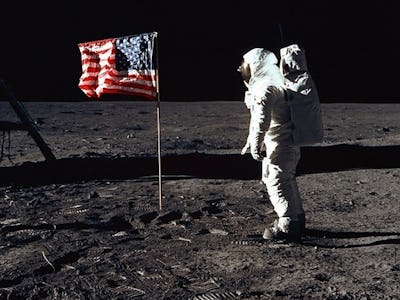 NASA
America, you big beautiful beast, you've done it again. With 12 hours left to go on the Kickstarter to save the suit Neil Armstrong wore on the Apollo 11 mission in 1969, you've exceeded the goal, raising an unwieldy $706,722 to preserve this piece of history.
The Smithsonian got the Kickstarter going once it found the suit worse for wear after taking it out of climate-controlled storage after nine years.
"All objects are in a constant state of deterioration," Peter Jakab, chief curator at the National Air and Space Museum, told The Atlantic. "All we can do is just try to slow it down. Nothing can be preserved forever."
The fundraising effort made its $500,000 goal just five days after its July 20th launch. Once it's back in good condition, the suit will go on display at the National Air and Space Museum in 2019 on the 50th anniversary of Armstrong's moon walk.
Then again, when a mere $30 donation gets you a reward of space ice cream, its a wonder they've yet to cross a million.