A New Piece of Apple Hardware Is in the Works, According to an FCC Document
Could this be a new 2019 Apple drop?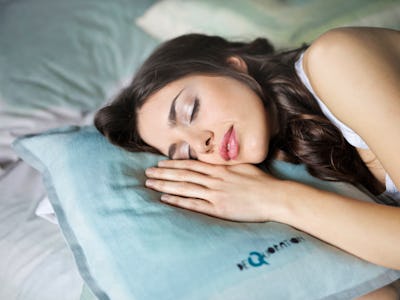 Unsplash / bruce mars
Apple cannonballed into the consumer health market with the Apple Watch Series 4 and it's not stopping there. After packing their signature wearable with health features like ECG and built-in fall detection, it's now looking for other ways to help you live a healthier life with Apple-branded products. Next up: an Apple-branded sleep tracker.
This is according to an approval document that the Federal Communications Commission recently released regarding the Cupertino-based company's filing for a sleep monitor. The published documentation only revealed a single blueprint of the mythic smart home device, but it also disclosed that it would be "Designed by Beddit in California." Beddit is a sleep-tracking tech company that was acquired by Apple in 2017 for an undisclosed amount. Apple is currently selling the Beddit 3 Sleep Monitor for $150, but this new patent, plus the acquisition, suggests an new Apple-branded take on the device is already in the works.
Read More About Apple Patents: The Company Is Working on an Autonomous Car System
Currently, the iPhone and Apple Watch work in tandem to track users' sleep and help build healthy sleep habits. This is all compiled under the Bedtime app, which saw a major overhaul when iOS 12 was released. Selling a sleep tracker would not only add to the amount of health data Apple users have access to, but it would directly work with a touchstone feature of the company's latest software update.
It's been more than a year since Apple acquired Beddit and it hasn't said a word about its future plans for the company's technology. The Beddit 3 can track the heart rate, respiration, movement, and snoring of anyone that sleeps on it as well as the room temperature and humidity of the surrounding area. All of this information is directly stored into the Health app, all that's missing is for Apple to put its own spin on it.
While Apple hasn't offered any hints as to what it would add to this product, it's easy to imagine it how it could integrate with the other gadgets in the Apple ecosystem. You might be able to ask Siri on the HomePod how you slept last night, for example, or Beddit's heart-tracking tech supplement the Apple Watch Series 4 ECG capabilities with nighttime readings.
This patent could also signal that Apple wants to merge its smart home systems, like the HomePod and Apple TV, with its health tracking features. In other words, the outline of an Apple home is already starting to take shape.