Marvel Costume Designer: How to Be Daredevil or Jessica Jones for Halloween
'Daredevil' costume designer Elisabeth Vastola provides her tips and tricks guide to cosplaying as your Marvel faves for Halloween.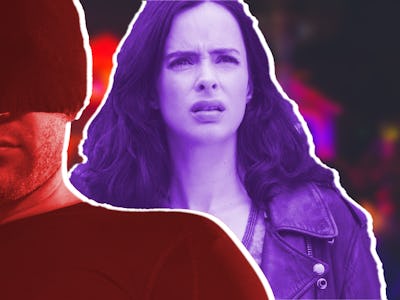 Unsplash / NeONBRAND, Netflix
The spookiest day of the year, Halloween, is only a few days away. Luckily, there's still time to put together a fearless look inspired by the Marvel Universe that will have even the scariest villains trembling at the knees.
The best part? You don't need Tony Stark's bank account to get it right.
Costume designer Elisabeth Vastola, whose credits include Season 2 of Marvel's Jessica Jones and Season 3 of Daredevil, both streaming on Netflix, gives Inverse her exclusive "cosplay guide" to help you become either Krysten Ritter's hard-drinking private eye or Charlie Cox's gritty vigilante lawyer.
While Vastola explains that both Daredevil and Jessica Jones' costumes can be achieved at a thrift store, we've included choice recommendations from Amazon to help you obtain whatever pieces you might be missing.
Side note: Vastola didn't work on Luke Cage, Iron Fist, or The Punisher, but the internet is littered with cosplay guides for those characters as well.
How to dress as Daredevil for Halloween
Fresh from your binge-watch of the new season of Daredevil, costumer Elisabeth Vastola wants you to know that her team didn't just recycle the original black costume from the show's first season.
"It's not the same outfit at all," Vastola tells Inverse. "It's just a return to his roots of what originally worked for him before he had access to Melvin Potter. The idea behind it is that he is really working with whatever is in that church basement he's living in with Maggie."
While Daredevil's black outfit from Season 1 looked as if Matt Murdock went on an Amazon Prime spree, the "new" black costume from Season 3 is far closer to the frayed look of the black costume as illustrated by John Romita Sr. from Frank Miller's 1993 comic, Daredevil: Man Without Fear.
"What I thought was paramount was texture," Vastola says. "The pants are more rigid, the shirt has a more waffle texture to it to give it grit and stand the elements better. The mask could be made without sewing it together, because there's no way Matt has a sewing machine. He is just feeling it around his head, putting it in strips of black fabric from church vestments he's wrapping around his eyes so you don't know he's blind."
She adds that texture is important, "that you feel the dirt and used elements of it and that he's chosen this [costume] by his sense of touch."
Adds Vastola, "You can do Season 3 out of two waffle thermal shirts, a pair of black pants, black boots, boxing wraps, and maybe one strip of white cotton."
Here's the breakdown of Daredevil's Season 3 costume, with some variations to help you recreate the cleaner Season 1 version if you wish.
Black trousers: "The older the better," Vastola says, "and more beat up the better." But she advises not to have any holes in them.
Amazon: Propper Men's Lightweight Tactical Pant or ITALY MORN Men's Chino Jogger Pants
Amazon: Smith & Wesson Men's Breach Tactical 8"
Black shirt: For Season 3, Vastola recommends black longsleeve thermal or crewneck waffle. "I would definitely love to see Daredevil cosplay for Season 3 that has a lot of texture to it," she says.
Amazon: CYZ Men's Mid Weight Waffle Thermal Long Sleeve Crew Top (for Season 3), Defender Men Compression in Black/Red (for Season 1)
Belt?: "He does not wear a belt," Vastola says in regards to Matt's costume in Season 3. He does wear a belt in Season 1, however.
Amazon: squaregarden Men's Nylon Military Style Tactical Duty Belt (Season 1)
Mask: To achieve Matt's black mask, Vastola says you can cut up strips of black and white fabric from any t-shirt or another waffle tee. "Cut wide strips. tart in the back of your head and wrap it, cross it in the front, and wrap it back again. Stick a tiny, thin layer of white underneath the frayed edges [of black fabric], and tie it in a knot in the back."
YouTube: Netflix Daredevil Mask - How To by Evan Jung
Boxing wraps (optional) or black gloves: In Season 1 and at the beginning of Season 3, Matt pays homage to his boxing heritage with Muay Thai wraps around his hands and wrists to pad his knuckles. He ditches the wraps in favor of fingerless gloves halfway through Season 3.
Amazon: Cramer 950 Premium White Athletic Tape or CoverYourHair Fingerless Winter Gloves
How to dress as Jessica Jones for Halloween
The least "superhero" costume ever put to screen, Krysten Ritter's Jessica Jones wears a casual ensemble made to emphasize comfort over style.
"You should be able to recreate Jessica from a thrift store, no question," Vastola says. "And the black hair does it. It really completes the look. You want to temporarily color it or get a wig. That brings it home."
Here's the breakdown of Jessica Jones' Season 1 and Season 2 costumes, with Amazon links to help you fill in whatever piece you're missing.
Leather jacket: Krysten Ritter wears leather jackets from Ance which can cost thousands of dollars. Luckily, there are wallet-friendly options online.
Amazon: Tanming Women's Faux Leather Moto Biker or Leather Icon Slim Fit Biker Jacket
Jeans: "You need a pair of beat up light wash jeans, the more holes the better," Vastola says. The show's costume department outfitted Ritter in jeans from Citizens of Humanity and R13, which can be expensive. Also, Jessica's exact model of Citizens of Humanity boyfriend jeans were discontinued, with most of the final pieces scooped up by the Jessica Jones team. However, you can get similar pairs if accuracy is your thing. Just be prepared to spend some serious dough. Cheaper alternatives exist on Amazon or elsewhere.
Amazon: Shawhuwa Ladies Ripped Skinny Wash Denim
Black boots: "Black boots that feel heavier on the feet the better," says Vastola, "you wanna feel grounded and strong in them. Tuck the jeans into the boots always." For those looking to recreate the look 1:1, Krysten Ritter wears discontinued "Acasia" boots from women's shoemaker Söfft. A close match Söfft currently offers is the "Belmont."
Tee or tank: Vastola recommends white "because the contrast between the white and black and light blue is very indicative of Jessica."
Amazon: Amazon Essentials or Hanes
Scarf (optional): "That's a Season 1 move," Vastola says. "Obviously she got the scarf taken by Daredevil in The Defenders. You could get a gray scarf. If it's not an infinity scarf, hide it under the leather jacket."
Amazon: Sprigs Winter Knit Infinity Scarf
Fingerless gloves: Like Daredevil, Jessica also wears fingerless gloves.
Amazon: Gravity Threads Unisex Half Finger Stretch Knit Gloves
Accessories (optional): "It's important to accessorize," Vastola advises. Jessica's key items are her gray messenger bag and DSLR camera. If you have any of those lying around, great! If not, there are options online.
Amazon: Rotcho Vintage Pilot Messenger Bag and Loftus Small Squirt Camera Novelty Item
All seasons of Marvel's Daredevil and Jessica Jones are streaming now on Netflix.