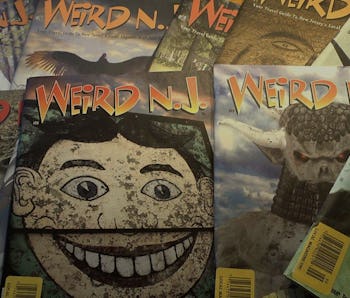 Culture
One New Jersey Magazine Made Teens Explore Their Haunted Backyards
How Weird N.J. inspired a generation of thrill-seekers.
YouTube.com/cinemassacre
At 70 miles wide and 170 miles long and right next door to New York City, New Jersey is one of the most densely populated regions in the United States. But even with so many people packed in proximity, there are many isolated and abandoned places you wouldn't want to be with an empty gas tank. It's in these eerie spaces, from the Devil's Tree in Bernards to the abandoned Lambertville High School, that are colloquially known as "Weird New Jersey." These places have beckoned generations of thrill-seeking teens to explore, sometimes illegally. And it's all thanks to the magazine that bears its namesake, Weird N.J.
Created by New Jersyans Mark Sceurman and Mark Moran in 1989, Weird N.J. is a magazine released semi-annually that chronicles New Jersey folklore, oddities, ghost stories, and all things bizarre in a state with nearly 250 years of history. The popularity of the magazine soared in 2003, when the two Marks collected the best stories into a hardcover book, which hit the New York Times best-seller list. Growing up, everyone I knew had this book. It was mandatory it to be on a teenager's shelf, next to Harry Potter books and Kevin Smith DVDs.
"The first hardcover book opened up a wider audience to the magazine. We were not 'under the radar' anymore," co-founder Mark Sceurman tells Inverse. Soon the magazine explored other states, such as Weird N.Y., Weird Texas, and Weird California. A History Channel series, Weird U.S., ran for two seasons in the mid-2000s.
But the Marks never left New Jersey. And as popular as the book and magazine became, Weird N.J. never lost its audience of people "kinda offbeat, maybe inquisitive about things outside the norm." In my experience, it was theater kids, skaters, and anyone at Warped Tour who indulged in these dangerous-but-thrilling excursions.
"We've always said either you get it or you don't," says Sceurman. "When we do appearances, people come up to us and say, 'Wow, I love this stuff.' Other people will come by, pick up the magazine, and act confused, like they don't understand at all."
Predating the internet but after the fanzine boom, Weird N.J. started out as a zine "printed on a copy machine" where "less than a hundred copies" were printed of the first three issues. "I was always into local New Jersey history, but not places such as where Washington marched," Sceurman says, who found the overlooked parts of his neighborhoods more interesting. "The magazine was born when I discovered that every town has their own stories. I realized no one was writing down this history. Maybe it's not really history in the proper sense, but it's definitely more entertaining!"
Since Weird N.J., locals have come to recognize and appreciate their own backyard. In researching the significance of the magazine, I didn't have to go far; a lifelong Jerseyan myself, I simply put out a call on my Facebook feed. "Do you have a Weird NJ story? Message me," I wrote as a status update. Immediately, friends and acquaintances from my hometown and alma mater, Rutgers, responded with their stories, most of them from during their high school or college years. In effect, the journey of a Weird N.J. trip is a coming of age ritual for all who live in the Garden State.
"One of the first things I did when I got my driver's license at 17 was decide which Weird NJ location I wanted to go to," says Erin, 26, with whom I attended grade school with in Edison. "With so many to pick from, it was very difficult."
I asked Erin for her best story: Shades of Death Road. Located in rural Warren County, Shades of Death Road is the actual name for a seven-mile stretch that connects Liberty and Independence townships. Expectedly, there's a lot of alleged paranormal activity. Wraiths are said to appear at the lake off the road. The ghosts of children killed by a truck supposedly appear if drivers stop past midnight, turn their high beams on, and honk three times.
"My personal favorite legend says if you turn off your headlights and drive in reverse between midnight and 3 a.m., a black pickup truck will appear out of thin air," Erin says. (Black pick-ups seem to frequent these places. Another is said to be spawn near the Devil's Tree, who will try to run off rude visitors who deface the tree.)
"We didn't see any of that sadly, but we did find a place to park and hike the woods a short distance to find the Ghost Lake. It had a three-foot, overgrown bridge running through with foggy vapors flowing over it from the water. We eventually get spooked by the loud noises from the woods. We high-tailed it back and were paranoid about every passing vehicle with headlights, thinking it could be the black pickup truck."
Sceurman argues on behalf of first-hand witnesses. "Most people have no reason to make up an incredible story that has happened to them," he says. "There is not much to gain by telling us a fabricated tale. The magazine is a vehicle for everyone to get their story told. We leave it up to the reader to believe it or not."
Real or not, those who venture out tend to have eerily similar stories. They almost always begin with a 30-40 minute drive (because everything in New Jersey is only 40 minutes away), a deafening silence upon arriving, followed by a long time spent in awe at the place. Then, the trip ends abruptly at the first instance of something hostile, usually a loud sound, like a bang. But among those I spoke to, few were willing to find out for sure. Some things are best left a mystery.
"Everyone loves ghost stories," says Sceurman. "I do, although I've never seen a ghost. People seem to want to believe there is another dimension outside of their own existence."