New Jersey Still Idolizes Kevin Smith
Here's what it's like to spend a Saturday with 284 Jay and Silent Bob cosplayers.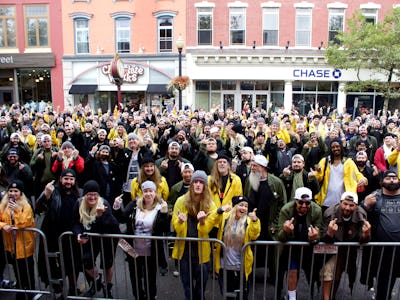 Eric Francisco
It's a cloudy and humid Saturday morning in Red Bank, New Jersey, a picturesque beach town an hour's drive from New York City. The average family income here is $80K, a windfall the town enjoys as evidenced by expensive homes, a thriving arts scene — it's home to the famed Count Basie Theater and an annual film festival — and diverse restaurant options with attractive patio seating. Red Bank is as Main Street, USA as it gets… but for Kevin Smith, who has gathered 250 people dressed like stoners on the street for a big celebration and TV show. But the town is happily accommodating the filmmaker, both today and throughout the last 20 years, the anniversary of which is the focal point of these festivities.
The era-defining director of films like Clerks, Chasing Amy, and Dogma is attempting to break a world record: Gathering the most cosplayers dressed as his movie mascots, Jay and Silent Bob, in one place. To enter the Guinness Book of World Records, a minimum of 250 cosplayers must stay dressed in screen-accurate yellow jackets and blonde wigs (for Jay) and trench coats and baseball caps (for Silent Bob, played by Smith in several films) for five minutes. Every outfit must come from a specific Jay and Silent Bob movie. The attempt is being staged in front of Jay & Silent Bob's Secret Stash, the Smith-owned comic book store where his AMC reality show Comic Book Men is filmed. (This event will be an episode in the new season.)
Since his debut feature Clerks premiered at Sundance in 1994, Smith has made his New Jersey roots a key part of his identity. Today, New Jersey is there to help him achieve another unlikely (and very irreverent) goal.
Because it's both Smith's 47th birthday and his store's 20th anniversary, Mayor Pasquale Menna has declared the day "Kevin Smith Day." But not everyone seems to know what's going on; behind the barricade where the press observe from, local townsfolk are gawking at the scene of men, women, and children grouped in pairs of brown and yellow. I converse briefly with a local teenager, who said he had no idea who Kevin Smith even was. (He was wearing a Venom t-shirt, so I thought it was a safe assumption. He tells me he likes comics, he just doesn't know "comics people.")
The usually busy Broad Street has been shut down for the Jay and Bob clones. Truck drivers on their routes hadn't been told about it, and so throughout the event they make loud U-turns, to the ire of the reality show's producers. But cordoning downtown was worth it for Menna, who has known Smith since he directed Clerks. "Kevin's the type of person to cut through the BS," Menna tells Inverse. "He wanted to do an event, we said we'd be happy to help."
The mayor isn't shy about the publicity either. "It's great PR for the local municipality," he says, though there's more to it than grabbing some headlines. "Perhaps it sends a message to young people that, 'Maybe I want to do something like that.'"
That's already happening, in part thanks to Smith's inspirational DIY legacy, with a first feature famously shot at nights in the convenience store in which he worked. Today, student filmmakers from nearby Monmouth University are here, passing out fliers for the Monmouth Film Festival scheduled for next week.
Menna recalls his defense of Smith when the director was on the rise: "Creativity is in our presence, and somebody who is young is doing it." In Clerks, Smith's characters talk openly about necrophilia and self-fellating; in Chasing Amy, characters reveal their wildest sex stories in vivid detail; in Dogma, an abortion clinic employee is ordered by Heaven to stop two angels from exploiting a divine loophole; and in Clerks II, a guy has sex with a donkey.
"They were challenging, at times irreverent. I thought they were an eye-opener to a younger generation."
For nerds of a certain age, Kevin Smith is an icon. From the '94 debut of Clerks until the late 2000s, Smith showed a generation of angsty masses that they too can live out their dreams by being themselves. And even if it's more niche — what isn't these days — he still has a fan base that shows up to see his newer movies, like Tusk and Yoga Hosers. And as a Garden State native myself, I can attest to his import: His films referenced our malls, the Quick Stop was never that far, and if you're a comic book fan, going to the Secret Stash was a rite of passage. (Years ago, I spent all my money from my 18th birthday at his store, every dime, on Jay and Bob t-shirts and DVDs and Smith's Batman comics.)
Now, here I am, seeing the real Jay, Jason Mewes, warming up the crowd with jokes, fan-favorite quotes from the films, and threatening the Guinness adjudicator to crowd surf. The horde of cosplayers are an eclectic mix of young and old — aging Gen-Xers with kids hooked on Smith's films. The mostly white crowd isn't as diverse as Comic-Con, but it was undeniable that what stood before me were proud nerds from New Jersey.
Derek and Kelly, an engaged couple from New Jersey who now live in Plattsburg, New York, said it was Smith's voice they initially found compelling. "It was just kind of like blue-collar comedy," Derek tells me. "As a teen, I thought it was awesome. I've been a fan for years."
A half hour after 10 a.m., the man himself finally appears. Wearing a wig of long hair to look like the the movie version of Silent Bob, Smith enjoys a hero's welcome. After a few emotional words, it's time to tally. Smith enters the barricade with Mewes and the Comic Book Men cast to count down the five minutes, during which they take selfies with the fans. Not even halfway through the crowd, the five minutes are up. After several tense, surprisingly quiet moments, it's announced: Even with inaccurate costumes and people who left early disqualified, Smith and his fans break the world record with 284 cosplayers in attendance.
"He's always got crazy ideas," Ming Chen, one of the stars of Comic Book Men and an employee at the Secret Stash, tells me about Smith after the celebration. "But they always work out. Yeah, break a world record? It all sounds crazy at first and then it exceeds expectations."