Kevin Smith Points Out 'Clerks' Homage in 'Defenders' Poster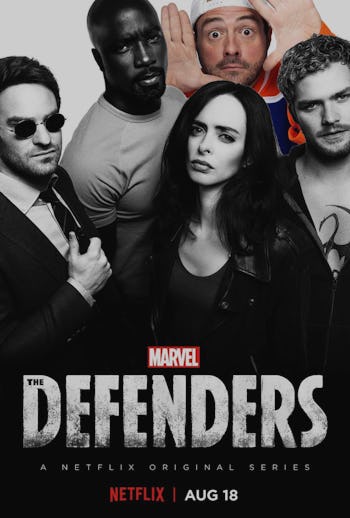 Netflix, Victoria Will/Invision
It isn't radical to point out how grungy Marvel and Netflix's collab series The Defenders looks. Between featuring Nirvana's "Come As You Are" in the trailer and the show's distressed, tattered logo (unlike the sleek sheen of The Avengers), the Defenders are like a superpowered indie band that's too legit for Tony Stark's money. But on Thursday night, a few hours after their nice-as-heck black and white poster debuted, director Kevin Smith pointed out a possible homage to Clerks, Smith's first and highly influential '90s indie comedy.
On Thursday night, Smith posted a "Who Wore It Best?" meme on his Instagram page (@ThatKevinSmith) that put the original poster for Clerks and the new poster for The Defenders side by side. In a caption to the post, Smith wrote: "'Just Because They Defend You Doesn't Mean They Like You.' If #thedefenders is meant to be a lower budget #avengers, then the #clerks poster similarity is kinda genius. #KevinSmith #marvel #netflix #netflixandchill."
On the surface, the similarities are easy to see: Both feature its characters in black and white, against a white background, looking too cool for school at the camera. While there are a lot of movie posters fashioned this way — probably more than 37 — Smith's Clerks wore a lethargic, young adult spirit on its sleeve that resonated with indie film fans upon its release in 1994.
And Smith, a known comic book fan who has also written comics for DC and directed episodes of The Flash and Supergirl, is obviously enjoying the homage whether or not it was intentional.
The Defenders hits Netflix on August 18.