Here's When 'The Defenders' Arrive on Netflix
The war for New York is here.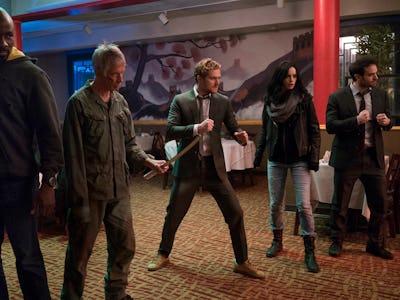 Netflix
In just a few months, it'll be time to knuckle up. Fans of the Marvel Cinematic Universe are eagerly anticipating the formation of the Defenders, the four-piece superhero team made up of Marvel's grittiest street vigilantes: Daredevil, Jessica Jones, Luke Cage, and Iron Fist. Marvel's The Defenders, shepherded by showrunners Douglas Petrie and Marco Ramirez (Marvel's Daredevil), will debut on August 18 on Netflix.
Like 2012's The Avengers, The Defenders will be the culmination of the four Netflix-exclusive shows from Marvel Studios' TV division, which began in 2015 with Daredevil starring Charlie Cox. The Defenders will unite Cox, reprising his role as Matt Murdock, alongside Krysten Ritter (Jessica Jones), Mike Colter (Luke Cage), and Finn Jones (Iron Fist), who plays billionaire CEO Danny Rand who wields a great power from his victory over the ancient dragon, Shou-Lao the Undying, from the land of K'un-Lun.
The Defenders will bring all four together to stop the Hand — potentially led by Sigourney Weaver's mysterious villain — from achieving their goals of taking over New York City, and consequently the world. It may be a job suitable for the Avengers, but as Iron Man and the others are too busy stopping Thanos from gathering the Infinity Stones, it's up to the neighborhood to defend itself.
Marvel's The Defenders begins streaming August 18 on Netflix.