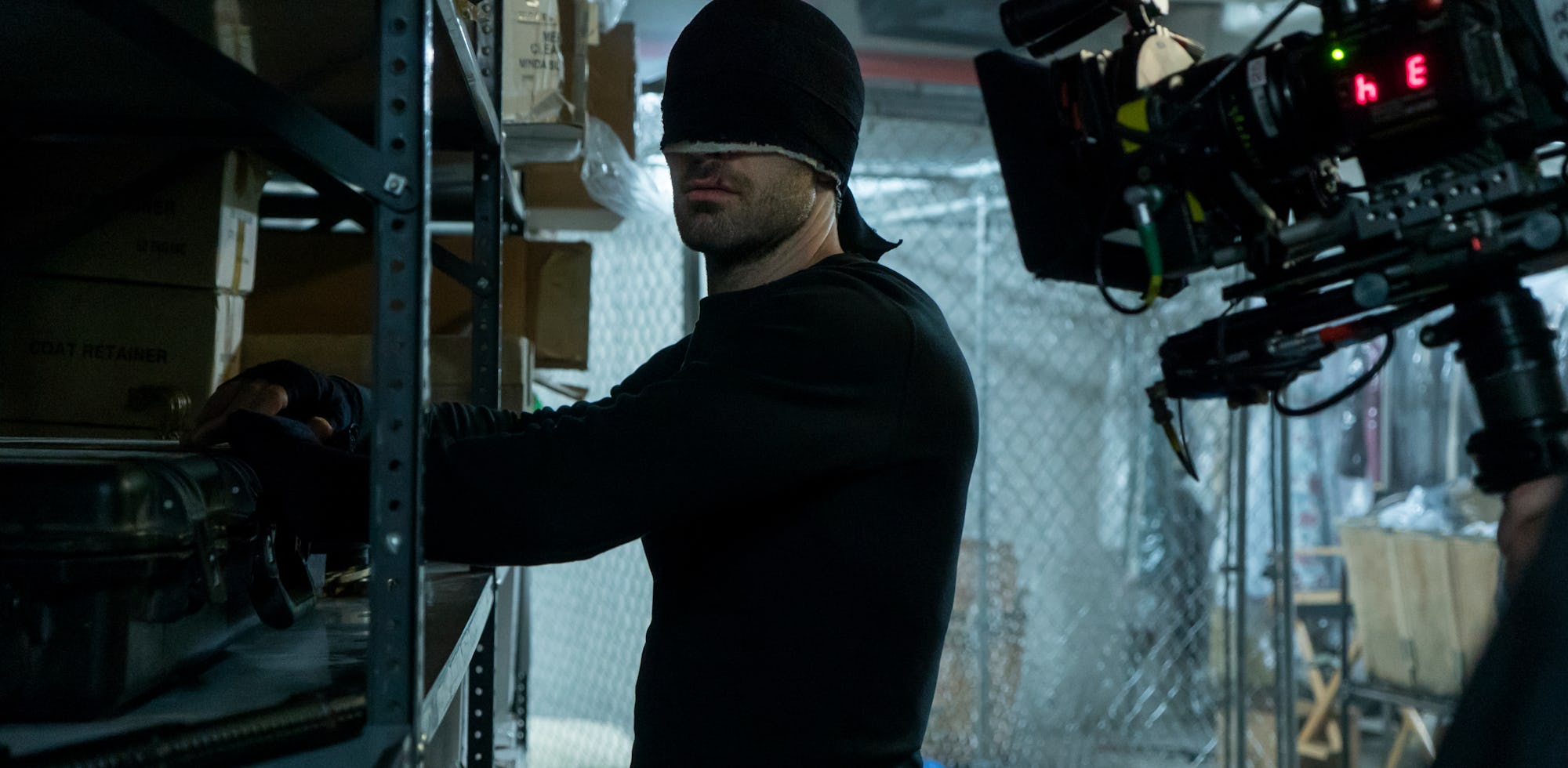 Entertainment
A "Spiritual Crisis" Brings 'Daredevil' Season 3 Back to Its Grittier Roots
Showrunner Erik Oleson and Charlie Cox unpack Matt Murdock's inner turmoil in Season 3 of 'Daredevil.'
Netflix
On a muggy early April morning in Brooklyn, inside a Greenpoint warehouse besieged by factories and parking lots, Charlie Cox reveals Daredevil's soul.
"He's a walking contradiction in everything he does," the weary 35-year-old English actor tells a group of journalists on the set of Marvel's Daredevil Season 3, dried blood still on his lips. "You can look at him and see someone who is a moral, upstanding member of society, and in the same breath see him as an absolute menace."
Three years after it debuted on Netflix, Daredevil Season 3, premiering October 19 on Netflix, still follows Matt Murdock (Cox), a blind lawyer and vigilante still making bad decisions and letting fear get the better of him. But there's some new, terrible (and for audiences, thrilling) things brewing in Hell's Kitchen.
In conversations with the cast and crew from a set visit earlier this year, including new series showrunner Erik Oleson (whose previous credits include that other gritty superhero series, Arrow on The CW), we learned how the long-awaited third chapter of Matt Murdock's saga is bringing Hell's Kitchen back to its grounded and gritty roots. Truthfully, it's the only way to go after Season 2 added ninjas and The Defenders hinged on dragon bones buried in New York.
"It is much darker, more character-driven," Oleson says of the new season, via Skype. "The action sequences are violent and explosive and very much Daredevil, yet there are real stakes. It's more than just a bunch of awesome stunts. There are emotional decisions being made. Characters will die. Matt will lose. It is not a predictable season."
Daredevil is still part of the interconnected Marvel Cinematic Universe, yes, "but in this moment in the show, we're not dealing with that anymore," Cox says. No more Iron Man or Thor references. "We're now in a world that feels grounded and real."
Naturally, Oleson mined several big Daredevil comics for inspiration, namely Frank Miller's Born Again and Kevin Smith's Guardian Devil. But he avoided direct adaptation. He teases that a new character, Sister Maggie (played by Joanne Whalley), may be familiar to readers of Born Again but promises a different story for her than fans can predict.
"I think that would have been a mistake," he argues, "I did not want a smorgasbord of comic book moments. I wanted to give the audience what they want but not in the way they expected."
Picking up where The Defenders left off, Matt Murdock is alive — barely — and healing from his devastating wounds at the beginning of Season 3. While most of New York, including his closest friends, believe he died in the implosion of Midland Circle, Matt hides away in the Catholic orphanage where he grew up. And he's pissed.
"He's going through a spiritual crisis," says Oleson. "We're gonna find Matt Murdock in a dark place. He's not in physically good shape and incapable of being Daredevil. He has issues with his abilities."
The new season of Daredevil explores some very basic, primal human emotions: Fear and anger. Robbed of his powers, Matt has nothing but resentment towards the big guy in the sky. And he fears the release of his old nemesis, Wilson Fisk (Vincent D'Onofrio), who leverages his way back into society. With all this happening, Matt will keep pushing away the only two people close to him, Karen (Deborah Ann Woll) and Foggy (Alden Henson).
"The events of the Defenders drives Matt to regress into the 'solo warrior' mantra," Oleson explains. "'I cannot attach to others because that will harm them.' That is the emotional place Matt starts the season."
"Matt thinks that's the only way to protect the people he cares about," Cox adds. "The truth is, Matt doesn't have any ability to go to that level of vulnerability with anyone, particularly Karen. And that fear is so great that he has found excuses to prevent it from being a reality."
Oleson says Season 3 is framed around a specific theme: How fear "enslaves us."
"When we're afraid, we do dumb shit," he says. "It turns us against people because when we don't understand that they're just motivated by their fears. I'm observing the world around us right now. The country is very divided, the world has a lot of problems, and villains who capitalize on our fears bring a balance."
Fear drives everyone in Season 3, not just Matt. Foggy and Karen are driven by fear now that Fisk is out. Fisk too, who seeks to protect his beloved Vanessa, is acting out of fear.
"Fisk is someone who does not let old scores fade," Oleson says. "This season will set Matt and Fisk on a collision course which will have tremendous implications for everyone."
Perhaps the most distinct change in Season 3 is that Matt Murdock is reverting to his black rags and ditching his fancy red devil costume. For reasons that are both thematic (a darker, angrier Daredevil) and practical (it's all burned up), Cox says the regression in visual iconography is illustrative of Matt's rage.
"Matt's relationship towards God and his faith has changed dramatically," he reveals. "He still believes in God, but he now believes in a punishing God. He's that angry. He feels let down. If you're someone who believes was given this gift to help and that was almost taken away but you're still alive, it throws everything into question."
Matt begins Season 3 so fundamentally changed that it even redefines how the Matt Murdock/Daredevil duality has existed for decades.
"Matt goes from believing he was Matt Murdock with Daredevil as this alter ego, to being Daredevil with the lie of Matt Murdock," he says. "It's subtle but it does interesting things. It makes him more reckless, which is quite fun. There's scenes where it's almost like he's enjoying the recklessness of it all."
"He still believes in God, but he now believes in a punishing God. He's that angry. He feels let down. If you're someone who believes was given this gift to help and that was almost taken away but you're still alive, it throws everything into question." - Charlie Cox on Daredevil Season 3
Cox has some real fears about returning to the role as well. Isolated from the warmth of his friends, Matt Murdock has become a difficult act to play.
"To spend a lot of time alone and isolate themselves to the degree Matt has this season, madness creeps in," he says. "As an actor, that's hard to play. It's easy to do that badly. It's like drunk acting, it's easier to do an impression of it than to live it."
Not twenty minutes earlier, I saw Cox shoot an intense scene, yelling and cursing in a claustrophobic set modeled like a crypt. Now, his breathing is labored. He's still partially in costume, the black sweats even worse for wear than in Season 1.
"I've never been the lead of a TV show and done three seasons of it," he says, seated beside the wall of a church confessional booth. "So one of the challenges is, how do we tell an interesting story and be consistent with these characters and this world but not rehash the same thing?"
When Season 3 begins, fans will see a Hell's Kitchen that is at once overly familiar and totally new. Like Daredevil himself, the neighborhood is a living contradiction, where ninjas and super freaks struggled to fit neatly in the framework of a grounded and gritty crime drama. Finally, after so long and after so much change, Daredevil is rediscovering its origins in a cloak of fear.
"Matt has survived Defenders, but at terrible cost," Oleson explains. "The man without fear is actually afraid of something."
Marvel's Daredevil Season 3 begins streaming on October 19.