Elon Musk Subject of Defamation Lawsuit Over "Pedo" Accusation
He recently implied that the diver was a pedophile.
by Josie Rhodes Cook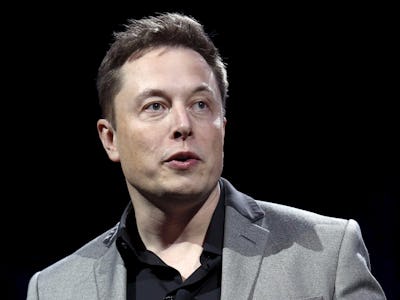 The CEO of Tesla and SpaceX, Elon Musk, is being sued by one of the Thai cave rescuers, Vernon Unsworth, in a lawsuit alleging libel, assault, and slander.
Musk recently doubled down on his accusation that one of the cave divers involved in the rescue of a Thai youth soccer team is a pedophile, after Unsworth criticized Musk for turning the rescue effort (in the form of this submarine) into a publicity stunt. On Monday, Unsworth filed suit, according to several reports.
Musk first implied that Unsworth was a "pedo guy" in July.
The Washington Post is reporting that Unsworth is seeking more than $75,000 in the defamation suit.
Lin Wood, Unsworth's attorney based in Atlanta Georgia, commented Monday on Twitter that "Vern Unsworth has taken the first step toward vindicating his good name."
In a series of emails posted to Twitter by BuzzFeed News reporter Ryan Mac, Musk defended his actions. "I fucking hope he sues me," Musk writes in the email dated August 30.
Here's the full lawsuit, obtained by BuzzFeed News, that was filed in United States District Court for the Central District of California and claims "worldwide damages."
A Brief Timeline of Elon Musk's "Pedo" Comments:
Friday, July 13: Unsworth called Musk's submarine developed to aid in the rescue effort of the Thai youth soccer team a "PR stunt." He said it "had no chance of working." Read more.
Sunday, July 15: Musk calls Unsworth a "pedo" on Twitter, adding "bet ya a signed dollar it's true." Read more.
Monday, July 16: Unsworth said he was considering legal action. Read more.
Wednesday, July 18: Musk apologizes, saying: "My words were spoken in anger after Mr. Unsworth said several untruths & suggested I engage in a sexual act with the mini-sub, which had been built as an act of kindness & according to specifications from the dive team leader." Read more.
Tuesday, August 28: Musk's confrontational social media presence was back with a vengeance when he again implied Unsworth was a pedophile. Read more.