Google Pixel 3 XL's Wireless Charger Might Come With an A.I. Feature
This could solve a big wireless charging nuisance.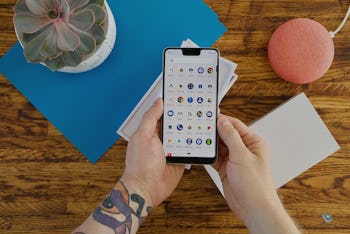 Mobile-Review
The cat may be pretty much out of the bag for Google's upcoming Pixel 3 XL smartphone. A cascade of leaks has given Pixel fans a pretty good idea of what's in store, from the handset's built-in wireless charging capability to the new charging port that might launch alongside it, known as the Pixel Stand.
One of the latest comes from developer Kieron Quinn, who after some snooping on the Google App, claimed to be able to display that the Pixel Stand will come with Google Assistant capabilities. Screenshots of Quinn's handy work, published by XDA Developers on August 31, reveal that the charging dock will let users perform actions like make phone calls, play music, and hear the news all while the phone is locked.
While wireless charging is working toward eliminating the need to have your phone tethered to a wall to juice up, it poses another annoying problem. You can't pick up and use your phone while it's charging. If what Quinn discovered is true, the Pixel Stand looks like it's been designed to help eliminate one of cordless charging technology's biggest nuisances.
These findings corroborates code fragments unearthed by 9to5Google in July suggesting that the Pixel Stand would somehow incorporate the Google Assistant. This would also line up with CEO Sundar Pichai's mission to add the smart assistant to a wider array of products, which he vocalized during a July quarter earnings call.
The Pixel 3 XL and the Pixel Stand are expected to be unveiled on October 9, roughly the same date that the Pixel 2 made its debut. But don't think the Pixel stand will come included with the smartphone.
A pretty legit looking leaked unboxing of the upcoming Pixel revealed it will come bundled with a wired charger along with a pair of USB-C connected Pixel Buds.
As for the specs, the 3 XL is said to be 6.7-inches with a notched screen while its smaller Pixel 3 counter part will clock in at 5.4-inches. Russian blog Mobile-Review says they'll start at $749 and $649 respectively. Both will run Android 9 Pie and will come retrofitted with Qualcomm's latest Snapdragon 845 processor.
There's no stopping these Pixel leaks.