New Report Confirms Announcement Rumors Surrounding the Google Pixel 3 XL 
Smartphone season is upon us.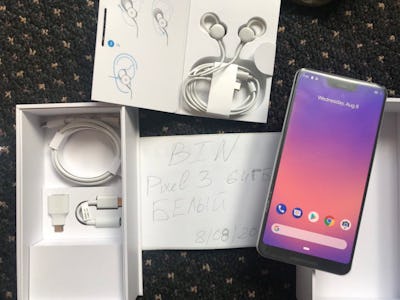 Канал Лучкова via Android Police
A treasure trove of leaks from a group of Russian tech blogs have revealed a number of key details about the upcoming update for the new line of Google Pixel. According to some of the leaks, so-called Pixel 3 XLs have been flipping on the black market for around $2,000 a pop, leading to a torrent of unboxing videos.
Hot on the heels of the hacker leaks, a juicy new Bloomberg story almost entirely focused on the upcoming iPhone announcement in September also revealed the date of a Pixel-related press event: October 9.
Alphabet declined to comment to Bloomberg about its report and, unsurprisingly, a Google spokesperson didn't immediately respond to Inverse's request for comment about the release date either.
Google Pixel XL 3 Specs, Size, and Features
In addition to the release date, we also have gotten a number of details about the expected phone's specs and features.
Every leak so far, for example, has indicated that the new Pixel will come with a notch which will possibly help enable a much more robust, dual facing forward camera. That may indicate plans to advance farther into facial recognition technology, and at the very least seems likely to help you take much sicker selfies.
In addition to the new notch, an unboxing video has also indicated that the new Pixel phones will ship with a pair of Pixel buds, not the case with the Pixel 2. Several leakers have shared video of them charging the new Pixel phones using a wireless charging port.
Thanks to the latest leak, we can now give an even more concrete time window for when we can expect all these features to be announced in earnest. But of course, we'll have to wait for a formal announcement from the tech giant itself before we can say for sure what the new Google smartphones can really do.