Google Pixel 3 XL Leaks: Release Date, Price, Specs, Features Revealed
Not very many surprises left.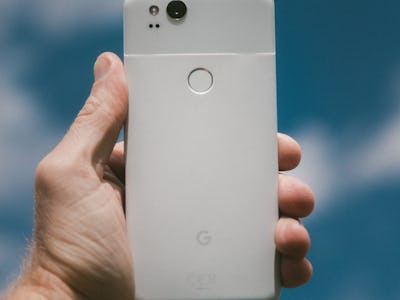 Unsplash / Jakob Owens
Google has yet to say a word about the follow-up to the Pixel 2, but the blogosphere has effectively made the announcement for them. The Mountain View-based company has been affected by several leaks that have revealed major changes to the coming Pixel 3 XL, slated for release in early October.
According to a report on Twitter, Russian blog Rozetked allegedly acquired a stolen shipment of the handsets. And 9to5Mac reports that a Ukrainian black market seller has been selling the unreleased Pixel devices for $2,000 each.
How Did Russian Bloggers Get the Google Pixel 3 XL?
It's not yet clear exactly how Google's new flagship mobile device fell into the hands of these smartphone bloggers, but they've pretty much spoiled every surprise the release of the next Pixel might have brought with it. Mobile-Reivew, a separate Russian blog, has leaked everything including the price, specs, and new features.
If Google follows the same release pattern from year's past, expect to see a mid-October, and pretty underwhelming, launch.
Google Pixel 3 XL Leaks: How Much Will It Cost and What's In The Box!?
Mobile-Review claims the smaller Pixel 3 will start at $649 and the 3 XL will go for $749. It's unclear how they figured out the price tag, as none of the pictures they published reveal anything regarding its cost. However, these figures mirror how much the Pixel 2s currently costs, which suggests this year's Google handset might actually be a bargain.
We've seen a leaked unboxing of the 3 XL in the past, and this confirmed it. The website showcased that the phone will come with a fast charger, a pair of Pixel Pods, and multiple adapters.
Previous Pixels did not include the aforementioned earbuds, which will come with built-in Google Assistant capabilities. This means the company might be throwing them in at no extra cost.
Google Pixel 3 XL Leaks: The iPhone X Inspired Display
Chatter that the 3 XL will come with a notched display appeared early in the rumor cycle and these allegations have been consistently corroborated by subsequent leaks. Mobile-Review has furthered these claims, revealing that phone will come with a 6.2-inch OLED screen.
According to 9to5Google the notch will house two front-facing cameras, a new feature to the Pixel line.
Google Pixel 3 XL Leaks: A Camera Like No Other
The camera at the rear of the Pixel has always garnered praise for its high-quality image capturing and it seems like this year's model will be no different. Rozetked claimed the 3 XL's will outdo any of its competitors and posted a series of photographs on Instagram showing off what it is capable of.
The front-facing cameras have also been rumored to pack a punch. 9to5Google, claims they will improve upon the Portrait Mode feature and enable another photo option known as "Super Selfie". It's still unclear how this newfound camera feature would work.
Google Pixel 3 XL Leaks: Wireless Charging Support
It seems like Pixel phones will also take a step into the wireless charging game. Rozetked reporter Maksim Khoroshev tweeted a short video Wednesday show the 3 XL juicing-up on a charging pad. The clip didn't specify whether it would make use of the Qi-Standard or the phone's charging capacity.
This would be the first time a Pixel phone would support tether-free charging. A majority of popular smartphones have already implemented built-in wireless charging, so this could be a sign of Google playing catch up.
Google Pixel 3 XL Leaks: Under The Hood
Finally, Mobile-Reivew also revealed what performance you should expect out of the 3 XL. The phone will be running Android 9 Pie and it will come retrofitted with Qualcomm's latest Snapdragon 845 processor.
These are both to be expected, as Samsung's current flagship phones run on this same processor and it's obvious that Google would run it's latest Android update on its new phones.
Well, there goes any hype Google was planning on building around its latest handset release.