Alleged Google Pixel 3 XL Leaks Reveal Long Notch and Potential New Features
It's looking mighty iPhone-X inspired.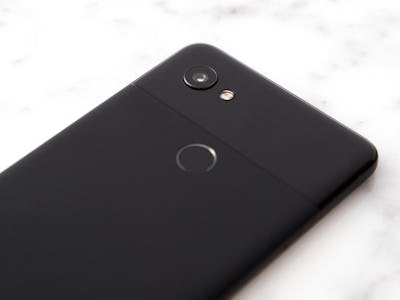 Unsplash / Charles Deluvio 🇵🇭🇨🇦
After months of relative silence, more images have surfaced claiming to reveal one of Google's upcoming smartphone releases. Prior leaks have only hinted at the rumored Pixel 3 and 3 XL's silhouettes and front panels, but the recent post claims to show what a fully built 3 XL will actually look like come release day.
A member of XDA Forums by the screen-name dr.guru posted four photos of what they say is the unreleased smartphone. The images notably depict an iPhone X-like notch, a glass back for wireless charging, and an all-white color scheme.
"I present you some pictures of the Pixel 3 XL in white, taken by me," wrote dr.guru "Unfortunately the phone doesn't boot because it was remotely erased by Google."
Their post seems to corroborate an earlier image of two alleged Pixel 3 and 3 XL screen protectors from the Chinese blogging platform, Weibo, posted on the leak aggregation site Slashleaks. The protector for the 3 XL model had a notch, albeit a slightly smaller notch when compared to these most recent leaks.
Will Google Pixel 3 XL Enable Wireless Charging?
Naturally other forum members prodded dr.guru with questions about the phone's size and if it was capable of wireless charging. They stated that the phone is comparable in size to the Pixel 2 XL and that it has a glass back, which would enable untethered juice-ups.
These features were largely ignored by the Pixel fans on Reddit, but the notch was dragged. The biggest critique was how far down the notch went onto the screen.
"I normally don't mind notches, the iPhone X and the LG G7 have ones that I obviously notice, but I don't think make the phones completely unattractive," writes one redditor on the Android subreddit. "This notch just dips way too far into the screen, and pairing that with the fact [that] normally the notch is used to remove bezels and they've kept a large one at the bottom just feels like poor design choice. This phone just doesn't do it for me."
While the Pixel 3 XL's potential notch received a lot of hate, this design would give users more screen space compared to the Pixel 2 XL, which just has a standard top bezel.
It's important to keep in mind that no matter how convincing leaks are, there is still a possibility that the final product will look very different. Google released its previous Pixel models in October of last year, so there is still some time before anyone gets concrete answers.