Leaked Google Pixel 3 XL Unboxing Shows What Will Come With Smartphone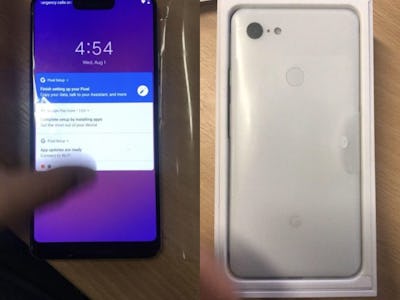 Канал Лучкова via Android Police
A video and images allegedly showing off what will be bundled with Google's upcoming Pixel 3 XL have bubbled to the surface of the smartphone blogosphere. Similar to a July 31 leak, this unboxing footage shows the phone sporting a deep notch but it also suggests the future handset will come with a pair of Pixel Buds.
The recording was initially published by Russian tech blogger Канал Лучкова's Telegram account and subsequently picked up by Android Police. Every glimpse of the 3 XL we've seen thus far indicates that its front panel will have an iPhone X-style notch. But unlike previous iterations of the phone, Pixel fans might get $159 USB-C earbuds to boot, come this fall.
Google Pixel 3 XL: What's in the Box?
The leaked video shows the Russian blogger riffling through the supposed package the 3 XL will come in. He pops out the phone, flips through the manual, and reveals the headset, charger, and dongle that are stored at the bottom of the box. This makes for the most complete leak associated with the Pixel 3 XL we've seen so far.
Like the previous 3 XL leak Google Pixel fans on Reddit were less than pleased with the length of the phone's potential notch. However, redditor vesoop pointed out that while it might not be aesthetically pleasing, it might bring new functionality to the heralded device.
"The notch is ugly af but at least it has some utility with the double cameras unlike other manufacturers who do nothing with the notch [and] have it just because," they write. "The chin is also more practical than other phones since it'll have dual speakers. It's not a pretty design but at least they're making some use out of it, unlike other manufacturers."
It's a pretty comprehensive leak, but based on last year's October release of the Pixel 2 and 2 XL, we'll likely have to wait until mid-fall to see if this unboxing is legit.