Google's New Phone Will Make You Seem Smart AF
You can now identify paintings, dogs and more.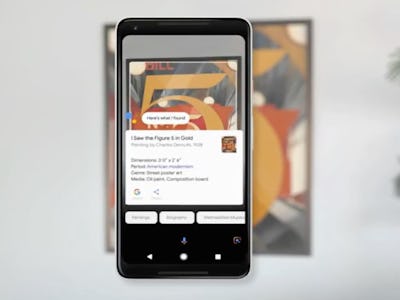 Google
If you've ever stepped into an acquaintance's decked-out home and felt like totally uncultured swine when you can't identify the art on the walls or what fancy dog breed their pup is, then you're probably going to like what the Google Pixel 2's Lens A.I. has to offer.
Introduced among various new devices and features at the special "Made By Google" event on Wednesday is a futuristic feature that is enabled by machine learning.
"Our phones can help us in many ways, but sometimes the questions we have are difficult to describe in the search box," said Aparna Chennapragada, the director of Google Now. "We believe that as computers can understand what you see, it unleashes a whole new kind of assistance. That's why we started working on Google Lens: a way to do more with what you see."
She then went on to demonstrate how Google Lens — once available on Pixel phones — will be able to give users realtime insight into what they're seeing in the world. As an example, she used the Google Assistant-connected image recognition app to accurately identify a print of Charles Demuth's 1928 painting "I Saw the Figure 5 in Gold."
The Google Lens was first revealed at the company's I/O developer conference earlier this year. We were floored at how the image recognition system could simply "look" at a wifi network's credentials to instantly connect the device it's running on to the internet. Turns out, that was just the beginning.
"Now you can just lens it," Chennapragada said, using the tools' capability as a verb the same way we all discuss "Googling" a given thing. "You can also follow up with 'What else did he paint?'"
With that, it's clear to see how Google's plan to make us all big know-it-alls has gotten even more sophisticated.
This kind of deep learning breakthrough is made possible by the millions of datapoints collected in Google Search, Chennapragada explained.
Though it does not appear the Lens will be immediately available in the Pixel2, Chennapragada said a preview of Google Lens will come to Google phones later this year.