Google Pixel 3 Leaks Suggest Game-Changing Camera Features on the Way
It might revolutionize your selfie game.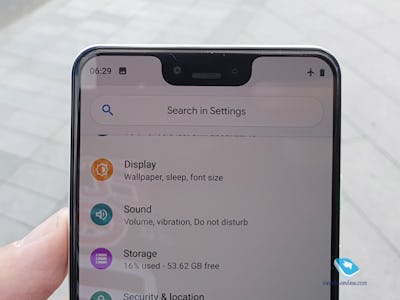 Mobile-Review
Google's next-generation smartphone has been leaking like a rusty pipe. Everything from its wireless charging capability to what will be included with it has been passed around by the ravenous Pixel fans of the internet and now a few more of its potential hallmark features has been revealed.
According to a 9to5Google report on Thursday, the iPhone X-style notch that will allegedly come with the Pixel 3 XL will house two front-facing cameras and an upgraded Visual Core chip that might enable "Super Selfies" and improved security features. The article cites anonymous sources, but the unreleased phone's hardware has been floating around for some time, apparently thanks to a Ukranian black market dealer that has been selling them for $2,000 a pop.
The article claims that these camera improvements are aimed at upgrading the handset's Portrait Mode, by making one of the lenses wide-angle. This could make for a crisper bokeh effect — the soft, out of focus background portrait modes are known for.
While this feature has been all but confirmed, the report describes two potential capabilities that are still shrouded in uncertainty. The first is the apparent "Super Selfies" mode that comes included in the phone's camera app. While it's unclear exactly what this will do, the fact the phone might come with an improved Visual Core chip, suggests that Google is trying to make the Pixel 3's front-facing camera as high-resolution as its rear camera. Traditionally, smartphone back-cameras take higher-quality shots but this could change that.
Secondly, one of 9to5Google's sources mentioned that the dual front-facing cameras set up could also improve facial recognition security, thought the article stated they weren't certain. The Pixel 2 allows users to unlock it with their face instead of their fingerprint, much the iPhone X. There have been some reports about users being able to side-step this security measure by using 3D printed faces. This could serve as a fix to these workarounds.
So while the Pixel 3's notch might be catching flake on Reddit, it seems that it'll serve a bigger purpose.