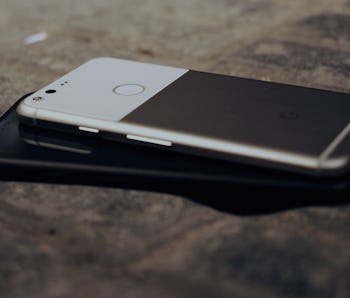 Innovation
Google CEO Reveals How Its Smart Assistant Is Key To Smartphone Domination
We could be hearing a lot more "Hi Google" soon.
Flickr / pestoverde
Google executives took a victory lap on a successful quarter in the company's Monday afternoon earnings call: Despite a whopping $5 billion fine from the European Union, the company still managed to beat earnings expectations.
During the call, CFO Ruth Porat and CEO Sundar Pichai also highlighted the conglomerate's performance this past financial quarter as well as offered a broad look at what's in store for the future. A key focus: Pichai wasted no time stating that he wants to put Google's artificial-intelligence powered smart assistant at everyone's fingertips.
"We see Google Assistant as an important evolution. It's early days, but it's already exciting to see," he says. "People are pushing the boundaries of what they can do with these devices. There are a lot more actions people are trying to get done, which are areas we are focused on. But I think it's important to understand that experience not just in the context of Home and Home Mini, but for the core mobile experience and across the screens, you will have in your life."
What's in Store for Google's Smart Assistant
Google has set itself apart in the smart assistant game with the announcement of Duplex at its Google I/O developers conference. This newly announced upgrade to Google Assistant makes the assistant capable of making phone calls with a believable human voice, down to the uhhs and umms. Access to this type of high-caliber A.I. could box out competing smartphone companies, like Apple, who don't provide anything on par with Duplex.
In the call, the CEO also notably sketched out an early vision for synching its assistant with thousands of compatible devices and making it as globally accessible as possible, with the Google Pixel as the central pillar of this ecosystem.
By the end of 2018, for example, the smart assistant will be available in 30 languages in over 80 countries, up from just 8 languages at the start of this year. Google has also thrown its partnership program into overdrive, making its A.I. available in over 5,000 household devices including doorbells, refrigerators, and dryers.
Theoretically, this means someone who wanted to will soon have little trouble embedding the Google Assistant across all facets of a home. If the company is able to sell itself as the face of the Internet of Things to consumers, the natural next step is to let them take it outside of their homes with the Pixel.
"In the simple moments when you're in an unfamiliar place or you don't know the language, Google is there to help with the right information at the right time," he says "This is what we aspire to be best at and it's why billions of people continue to put their trust in our products."
We could be hearing a lot more "Hi Google" than "Hi Siri" in the quarters to come.