The Evolution of Iron Fist's Superhero Costume
From 1974 to today, take a quick look at how the Iron Fist has changed.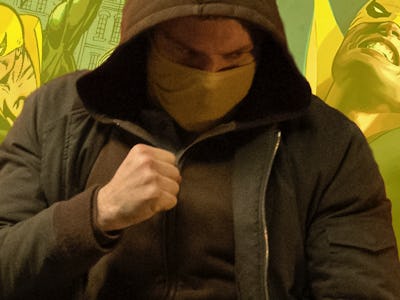 Netflix
He may not have an iconic look like Batman or Superman, but Marvel's Iron Fist has a very special costume indeed.
Since 1974, Danny Rand — a boy billionaire from New York who masters the art of kung fu in the mystical land of K'un-Lun — has worn a funky kung fu jumpsuit, usually in green and yellow, into battles against the Hand, the X-Men, HYDRA, and countless more. And goofy as he appears, even on the comic book page, you can't deny it's a hell of a look.
Most tellingly, while most superhero costumes tend to change in big ways over time (see: Spider-Man), Iron Fist's look has pretty much stayed the same. Even when the '90s came along and bulging muscles, bandoliers, and ammo patches were all the rage, Danny Rand stayed true to his origins.
With Iron Fist Season 2 primed for Netflix, here's a brief historical rundown on the costumes worn by the living weapon.
1974
Upon his debut in Marvel Premiere #15, illustrated by the legendary Gil Kane, Danny Rand made a bold first impression.
All the important visual elements to Iron Fist were laid down from the get-go: The yellow mask with the pointed black and white almond eyes, the yellow sash, the sweet dragon chest tat, and the obsessive use of green.
(Your mileage on the dude's sky-high popped collar may vary.)
It's a silly costume that perfectly illustrates Orientalist stereotypes westerners probably, definitely had in their heads when you said the words "kung fu." It was the height of the 1970s martial arts boom, and nobody was terribly sophisticated.
But it's also a costume that survived for decades, through his legendary team-ups with Luke Cage and into the '90s when comic fans thought anything before The Dark Knight Returns seemed too quaint.
In several notable appearances, mainly in 1990, 1996 and 1998 when Iron Fist starred in some very brief runs, his looked hardly changed, if at all.
2006
The definitive modern Iron Fist series, The Immortal Iron Fist by Ed Brubaker and Matt Fraction, saw Danny keep his original green and white costume, slippers and all.
But without much fuss, Danny also adopted a sleek, modern costume that covered his entire body, with his dragon symbol imprinted on top of the suit than as a chest tattoo he bared like it was spring break. (Danny would wear this costume years later during 2010's Shadowland, when Daredevil took over as leader of the Hand and ruled over Hell's Kitchen.)
But a few times Iron Fist did battle in "ceremonial" attire too. When he participated in an ancient tournament in K'un-Lun and fought a brutish sumo wrestler named Fat Cobra, Danny went shirtless with baggier pants. But it was never an official change. Dude was just looking the part.
2010
The biggest change to Iron Fist's wardrobe happened when he became an Avenger.
When Iron Fist joined the Avengers in Volume 2 of New Avengers by Brian Michael Bendis, a tussle over the Eye of Agomotto (which really pissed off Doctor Strange) was the catalyst for Danny to don a shiny new white and gold suit that really, visually pops. You should see it as an action figure.
Iron Fist would keep this nifty outfit for several years, even during massive crossover events like Avengers vs. X-Men and in the short-lived Power Man and Iron Fist revival that starred a new Power Man, Victor Alvarez.
2011
When Asgardian villain and fear deity Serpent sought the throne from Odin, the Marvel Universe teamed up to stop him. And virtually everyone needed new armor to withstand the might of Serpent. So Tony Stark engineered new costumes for the entire time, including Iron Fist. The costume also came with a chain weapon for Danny to wield into battle.
It was only a temporary costume though, as Danny would revert back to his usual duds in the aftermath.
2016
With their Netflix shows on the horizon, Marvel gave Iron Man and Luke Cage new looks. In David F. Walker's 2016 reunion series Power Man and Iron Fist, artists Flaviano and Sanford Greene turned Danny into a living Bruce Lee tribute, putting him in a visually attractive green tracksuit and yellow Onitsuka kicks that would make the Enter the Dragon star envious.
Sure, the collar is back, but Danny's new (and current) look is no joke.
Marvel's Iron Fist Season 2 begins streaming on Netflix on September 7.