'Iron Fist' Season 2 Improves on the First, but Still Fails to Pack a Punch
The second season of Marvel's maligned 'Iron Fist' series is way more solid in its structure but still lacks power in any meaningful way.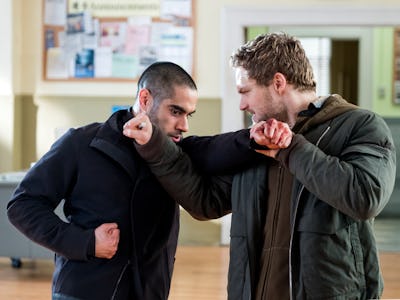 Netflix
Everything that needs to be said about Marvel's Iron Fist Season 2 was said last year, with one major difference: It's not bad. Iron Fist is still not the crazy kung fu show it needs to be, but the competence on display throughout Season 2 feels like a world of difference from last year's freshman effort.
In Marvel's Iron Fist Season 2, helmed by new showrunner Raven Metzner and streaming on Netflix on September 7, Danny Rand (Finn Jones) is back with Colleen (Jessica Henwick) and roughing it in a minimum wage job. He's also moonlighting as a vigilante in order to stop a gang war from erupting in Chinatown.
At the same time, Danny meets an eccentric, fresh off the Greyhound midwestern girl named Mary (Alice Eve), while Joy Meachum (Jessica Stroup) has returned to New York with Danny's old friend and rival Davos (Sacha Dawan) by her side in a suspicious alliance.
These seemingly disconnected stories of strangers, uber-rich family turmoil, and gang wars come together in a bizarre mosaic that actually makes sense. It just doesn't make Iron Fist the show it promises to be. And the limitations of Netflix are more present than ever, with bloated episode run times and a restrictive TV budget that make Iron Fist, a Marvel superhero with the potential to be a superstar, look like a last round draft pick.
At first glance, Iron Fist has apparently addressed all its harshest critics. To make up for Finn Jones doing kung fu, the show packs its supporting cast with Asian faces, nearly all of whom speak non-stereotypical, blue-collar English. The fight scenes are better choreographed (but still outclassed by Into the Badlands). Ward (Tom Pelphrey) is still the best character. Everyone can act. And Danny is pretty much getting his costume. All good things.
But then things nosedive.
The fight scenes, while good, are painfully too few in the first six hours of story. Danny's costume comes in piecemeal like it's seasonal DLC, which is excruciating after the last 13 hours of all Danny and no mask. And in the shadow of Crazy Rich Asians, Searching and other recent Asian-American stories told by Asian-American storytellers (not to mention Marvel proving the universal power of cultural specificity with Black Panther), Iron Fist is still painfully white.
Put it this way: Crazy Rich Asians made a game of mahjong feel high-stakes and important. Iron Fist uses it as a prop, to keep an actor's hands busy as they dump exposition about harbor docks. Danny can eat all the dumplings he wants, it's not making Iron Fist any more authentic.
The most damning thing about Iron Fist, even a year later, is the fact that it's part of the Marvel/Netflix family, a sandbox universe whose legs wobble as it tries to sustain bigger ideas. Everything is pointlessly and hopelessly "gritty." And though Iron Fist has long been classified as a "street" character in the Marvel Universe alongside Jessica Jones and Luke Cage, maybe, just maybe, everyone has it all wrong.
Why should a character who fought a dragon be reduced to fighting gangs? Why can't Iron Fist fight Thanos? He has all the potential to be an A-list superhero and his mythology has just the right kind of imagination to make for an exciting film franchise.
But he's on Netflix, reduced to talking about dragons without the budget needed to make that into a mesmerizing spectacle. As hard and admirable as Season 2 tries, Iron Fist still doesn't pack much of a punch.
Marvel's Iron Fist Season 2 begins streaming on Netflix on September 7.