John Cho Is Starting to Scare Us
The 'Harold & Kumar' star continues his turn to the dark side in 'Searching.'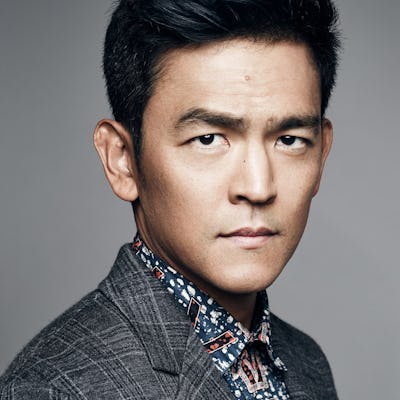 At 46 years old, John Cho is done blazin' it for burgers.
"I think it's just aging," he laughs, "That's part of it, getting older."
In a Hollywood career spanning two decades and rooted in raunchy teen comedies of the late '90s and 2000s, including the popular stoner road trip trilogy Harold & Kumar, the Seoul-born, L.A.-raised actor is now playing his age. Cho's second act has found him starring in horror movies and thrillers that explore very real, very adult human anxieties. And Cho is bringing a literal face audiences don't normally see in these types of stories.
"I love it because the stakes in my life with children have gotten higher," the father of two says of recent roles playing troubled adults (2017's Columbus) and/or concerned parents. "Every good or bad thing gets magnified. It's good for drama and it's good for characters. I'm into it."
It was in 1998 when Cho's character in American Pie gave pop culture (and the porn industry) the term "MILF." Today, Cho has taken on more serious roles, including one as David Kim in the techno-thriller Searching, which opens wide on Friday. Next year, he'll be in Grudge, a reboot of the American remake of the Japanese horror hit Ju-On.
Perhaps Grudge will cement Cho's status as a new horror icon, but for now, Searching is his foray into the territory.
"It's a suspenseful thriller that there's not many people making today," Cho tells Inverse. "Horror's not something I grew up watching. I just wanted to immerse myself in a kind of movie I loved watching."
In Searching, directed by Aneesh Chaganty, Cho plays David, a widowed father to a teenage girl who disappears after a late-night study party. With the help of hard-boiled police detective (Debra Messing), David retraces his daughter's digital footprints, only to be confronted by every nightmare a parent could have about their child.
All good horror films take root in real fears. Poltergeist corrupted the safety of the family household. A Nightmare on Elm Street made nightmares fatal. And Searching explores the pitfalls of parenting in the age of smartphones. Uniquely, the film is seen entirely through non-traditional lenses like webcams, FaceTime, livestreams, and app-enabled security cameras.
The big picture theme of Searching is a paradox: No matter how many means we have to communicate, we are still really bad at communicating.
"The movie is agnostic on tech, but it amplifies what tech does," Cho explains, saying it "illustrates that tech amplifies whatever impulses we have. In the way a hammer increases the force by which you strike something exponentially, our devices amplify our good and ill will."
When the Harold & Kumar films concluded, Cho quietly began his turn to the dark side when he played the villainous Bob McClane in the 2012 sci-fi Total Recall. A year later, he played a zombie cop in the Fox series Sleepy Hollow. And more recently, he was caretaker Andy in the final season of The Exorcist. He still played light characters, notably his starring role in the short-lived ABC comedy Selfie. But sci-fi villains, demonic henchmen, and distraught fathers are a big leap from cheeseburger-hungry Harold Lee. Is John Cho trying to scare us?
"I don't think I'm looking to scare audiences, but I like it," he says. "Specific to Grudge and Exorcist, through those projects I appreciated how the genre of horror could heighten and enhance character."
Tellingly, in an interview with Entertainment Weekly last year, he sought The Exorcist because it felt radical as an Asian actor.
"I had not seen Asian faces in American horror, and it kind of tickled me to want to change that visual vocabulary a bit," he said. "I thought it would be, I don't know, intrusive to have my face in it."
In a just world, John Cho's face would not feel intrusive, but like it belongs.
He has all the tools an actor could want, beginning with his handsome, everyman look to a relaxed voice that exudes control — perfect for high-strung characters in bonkers situations. In the same theatrical release season, Cho could save the world as a Marvel superhero and woo the girl in a romantic comedy.
The latter felt inevitable in 2014, when Cho starred in the ABC romcom Selfie opposite Karen Gillan. But low ratings forced an early end to Selfie before its two hot leads could smooch, which Salon writer Sonia Araiya called a "travesty," and the revolution ended before it was televised. Another four years would pass before Crazy Rich Asians became a hit (and Cho isn't in that movie).
Not even Cho's biggest films, including the blockbuster Star Trek franchise, made him immune from Hollywood's systemic prejudices against Asian leads. But after Selfie, a funny thing happened: he went viral.
"I don't think I'm looking to scare audiences, but I like it." - John Cho
In 2016 digital strategist and activist William Yu released #StarringJohnCho, a visual thought experiment in which photoshopped posters for movies like Avengers: Age of Ultron, This Is 40, and Mission: Impossible featured the Cho in the lead role.
It could have been anybody on those posters. But Yu used the Korean-American actor, who has mainstream recognition but not quite mainstream stardom, to get his point across. In a May 2018 interview, Yu told Inverse that #StarringJohnCho was "not about John Cho," but about "getting used to what it means to see an Asian face in a lead role."
You can still imagine it would be just a bit bizarre to see yourself trending for something you didn't do."That initial feeling was weird because it was me. I didn't start it, I didn't consent to it," Cho says, adding that he is a "private" person. "It was a queer feeling."
But Cho did something rare in the age of social media: He slowed down, and listened. "And then, I appreciated what was happening," he says. "It efficiently started a conversation. This wasn't an op-ed in the New York Times you had to read. It was a picture that was effective in communicating an idea. An Asian guy in the Avengers. Is that weird? No? We thought so."
#StarringJohnCho was just a few pictures. But the thousand words they said spoke volumes.
"It's hard for people to understand," says Searching's director Aneesh Chaganty, an Indian-American who was inspired to make movies after seeing a photo of M. Night Shyamalan on the set of The Sixth Sense. "Someone on Twitter was like, why does this matter? Who cares what color John Cho is? I responded, 'Dude, in a perfect world it doesn't matter, but it's crazy that in 2018 [Searching] is the first movie to do it.' When you don't see yourself you notice that."
There have been very few Hollywood movies, let alone horror movies, that have an Asian lead. Horror has always been inclusive; the gothic classic Frankenstein was penned by a woman, the great Mary Shelley, and last year's Get Out was a provocative stunner with explicit racial themes. But horror still hasn't had an Asian face in front of the camera. With John Cho, the title of Searching may be more apropos than its creators even realize.
"I'm really into the genre at the moment," Cho says. "Whether that's a pattern I'll continue I don't know, but I'm open to it and excited in a way I never was before."
Searching hits theaters on August 31.