'Pokémon GO' Ends the Summer Strong With 3 Awesome Events
Everything you need to know about the final summer events.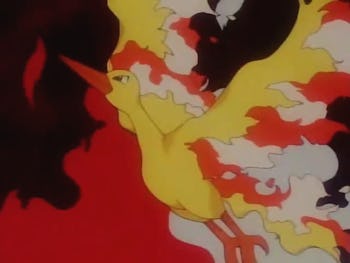 The Pokémon Company
Summer's not over yet, and Pokémon GO is heating things up with a final string of September events. That includes a week-long Stardust bonus, a chance to catch the fiery legendary Pokémon Moltres, and a mysterious bonus that might just be Gen 4 (we hope?). Here's everything you need to know about the upcoming Pokémon GO events.
Pokémon GO Stardust Event
Over the weekend, Pokémon GO players successfully completed their latest Global Challenge by knocking out over 15.1 million Field Research tasks collectively in just two days. As a result, you can expect to earn extra Stardust starting now through August 10 just for playing the game. Specifically, anytime you catch or hatch Pokémon you'll earn more Stardust that usual. The same goes for Raid Boss battles.
So get out there any earn some extra Stardust in Pokémon GO.
Pokémon GO Moltres Day Start Time and Details
As part of the same bonus, Pokémon GO will have a chance to catch the legendary bird, Moltres, on September 8. The special event lasts for three hours, starting at 2 p.m (same as a regular Community Day in the game).
During that time period, you'll get free raid passes and Moltres will show up at every gym for you to fight and catch. That means your chances of finding an utra-rare shiny Moltres will go up as well, but you'll still need a lot of luck to find one.
Pokémon GO Gen 4 Release Date: What is the "Ultra Bonus"?
Finally, on September 10, Pokémon GO is planning an "Ultra Bonus." We have no idea what this could be. It's a huge mystery, but here's one theory: It's the Gen 4 release date.
Pokémon GO has been teasing the addition of Gen 4 Pokémon for a while now. If the company wants to make a big splash it makes sense to release the update during the summer when more people are outside playing. Dropping it in mid-September should help keep fans invested into the fall and even the winter.
Then again, this is just a theory. You'll have to wait until September 10 to find out what the game has planned for sure.