iOS 12 Beta 5 Reveals Icon That May Have Leaked New iPad Design and Features
This my be the signs of a new era of tablets.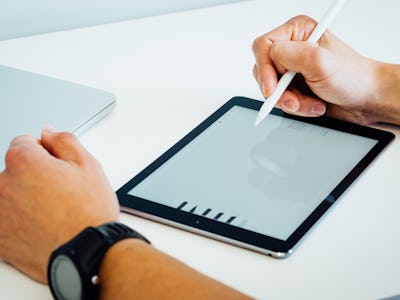 Unsplash / Dose Media
Apple may have already launched a new 9.7-inch iPad with Apple Pencil support in March, but mounting rumors suggest there could be an even bigger iPad facelift int he works. Previous evidence pointing to a potential iPad upgrade has come from analyst notes and unearthed product filings, the most recent revelation may have just come straight from the horse's mouth.
According to a 9to5Mac report on Thursday, the fifth iOS 12 developer beta is hiding an icon that shows a near bezel-less iPad and hints that Face ID might be coming to Apple tablets.
The publication found the symbol — which depicts an iPad with no home button and thin edges — in the battery usage user interface of the developers beta. This finding was followed by the discovery of a snippet of source code that suggests face identification technology is finally coming to Apple's signature tablets.
This wouldn't be the first time Apple has accidentally leaked upcoming products in its software. On July 31, 9to5Mac was able to find a separate piece of code that suggested future iPhone could come with a dual-SIM option.
During July of last year, developers also anticipated the iPhone X release by identifying the unpacking code that made up the HomePod's firmware. Similarly to these latest iPad leaks, they found a symbol of a notched iPhone with no home button and thin bezels.
There have long been rumors about the major overhaul in store for iPad devices. Much like the MacBook Air, the tablet has received minor hardware and software updates through the years but nothing as drastic as, say, the design of the iPhone X compared to previous iPhones.
This my be the signs of a new era of iPads to come.