Tim Cook Drops Hints About the Future Price and Release Date of Upcoming iPhones
What does this say about the rumors?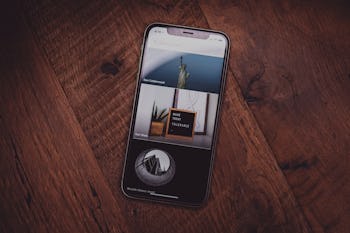 Unsplash / Tim Mossholder
The wisdom of the expensive iPhone X was initially hotly debated in the months that immediately followed its September 2017 release.
In fact, one April report went so far as to suggest the handset was doomed because of its hefty $999 price tag, while another published in May claimed it's the best-selling smartphone in the world. During Apple's Tuesday second-quarter earnings call, the company took the opportunity to issue a final post mortem in what was widely expected to be the last big update before the next round of iPhone releases. In short, the iPhone X release went great.
Indeed, Apple surprised investors by reporting better-than-expected earnings, during what has traditionally been the company's slowest quarter because of how closely it precedes new iPhone announcements. This announcement vindicated the iPhone X's launch and pricing strategy, which begs the question of whether Apple fans can expect similarly priced iPhones at around the same time as last year's launches.
"iPhone revenues are up 20 percent for the quarter over last year," stated Cook. "We're really pleased with that and if you look at the cycle…you'll see that we've grown like mid-single digits and on an average weekly sales point of view, and of course double digits on the [average selling price] so I think it's really healthy."
iPhone 2018: But How Similar Will They Be?
As is typical, Apple executives didn't give any explicit details on what the company has in store for the fall, but their hints did add a degree of weight to some of the most prevalent iPhone rumors.
Cook squashed the idea that the iPhone X might be dead, for example, which strongly suggests we'll see another high end release, possibly priced as high as the $1,000 range. It also seems likely they will announce the next iPhone trio during its scheduled September conference, and roll them out in the following months.
"On iPhone [average selling price], the only thing that I would point out is that we're exiting the June quarter at a significantly higher level than in the past," said Apple CFO Luca Maestri. "I think is important to keep in mind as we move into the September quarter."
This adds up to widespread chatter claiming Apple will announce a potentially $999, 6.5-inch OLED "iPhone X Plus" come this fall. But looking at the company's competition in the global smartphone market also provides evidence that they might need to provide some cheaper alternatives as well.
Cook and his colleagues once again brushed off questions about whether the smartphone market is over-saturated. But it's also hard to overlook the growing competition. Samsung's March release, for example, the Galaxy S9 is priced at $719 for a baseline, 64GB model. If Apple only offers $1,000 iPhones it would be limiting itself to the high-end smartphone market.
That explains why a great deal of the clamor coming from the company's Asian Pacific Supply chain alleges Apple is well on its way to making a $700, 6.1-inch "iPhone 9" in the likeness of the iPhone X.
iPhone 2018: But Will They Have Face ID and All the iPhone X's Bells and Whistles?
If rumors state that Apple will release this heralded budget iPhone, how exactly will the cheaper one cut production costs? The most credible leaks suggest most of the savings will come from tweaking the screen and the camera.
The iPhone X came with a dual-rear camera and a high-contrast OLED display. A number of rumors have claimed the upcoming, 6.1-inch iPhone will have a cheaper LCD screen and ditch the dual-camera for a single rear camera. That suggests that Face ID and facial recognition seem like they are here to stay.
In short, this fall might come with an iPhone X for everyone.