OG Green Ranger Will Return in 'Power Rangers' 25th Anniversary Special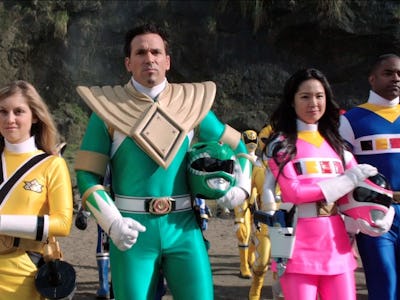 Hasbro
Power Rangers is turning 25, and its celebrating in style. On August 28, the newly-minted Hasbro franchise Power Rangers will release a 25th Anniversary Special episode of Power Rangers Super Ninja Steel, recruiting several legendary Power Rangers who will return to action for the first time in years.
One of them, of course, is none other than the original Green Ranger, Tommy Oliver, reprised by Jason David Frank.
On Monday, IGN revealed the exclusive first-look of the Power Rangers 25th Anniversary Special, which will air August 28, 2018. That's 25 years to the day since Mighty Morphin Power Rangers first aired on the Fox Kids Network.
Based on this first-look reveal, the special will feature the return of Frank, as well as other legendary Power Rangers Katherine (Catherine Sutherland), who will morph as the Pink Turbo Ranger from 1997's Power Rangers Turbo, and Wes (Jason Faunt), who was the Red Time Force Ranger in 2001's Power Rangers Time Force. IGN teases that more returning Power Rangers will be revealed in the coming weeks prior to the premiere.
It is interesting to note exactly what Power Ranger forms Frank and Sutherland are morphing into for the special. Frank, who has reprised his Green Ranger several times (most recently in the 2014 special for Power Rangers Super Megaforce), will once again become the Green Ranger instead of his White Ranger, his Red Zeo Ranger (from Power Rangers Zeo), his Red Turbo Ranger, or his Black DinoThunder Ranger (from Power Rangers DinoThunder).
Sutherland's Kat is also interesting, given that Kat has been three different Pink Rangers: Mighty Morphin, Zeo, and Turbo. However, the only powers that survived their respective season finales was Zeo; both Mighty Morphin and Turbo were destroyed through various means. How Kat will transform into the Pink Turbo Ranger remains a mystery (and unlikely to be answered, as Power Rangers specials rarely explain such things).
Power Rangers Super Ninja Steel will return to Nickelodeon on August 25. The Anniversary Special will air August 28 at 8 p.m. Eastern.