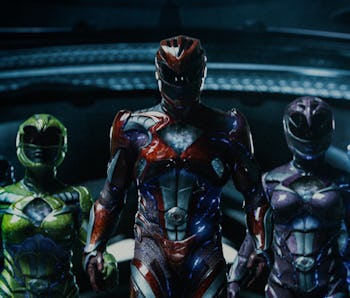 Entertainment
'Power Rangers' Reboot Movie Could Happen For a Crazy Reason
Lionsgate
It might be time to morph once again. Toy maker Hasbro has acquired the toy license for Saban's Power Rangers franchise, in a major deal that ends a 25-year partnership between Saban and Japanese toy maker Bandai. What's more: The deal allows Hasbro to acquire all things Power Rangers from Saban, including potentially films and television. With Hasbro attempting its own cinematic universe, there may be room for yet another Power Rangers reboot.
On Friday, Hasbro and Saban announced Hasbro has acquired the "master license" for Power Rangers, allowing Hasbro to make and sell Power Rangers toys beginning April 2019. This puts the color-coded karate teenagers in league with its biggest competitors in the toy market, including Marvel, Transformers, G.I. Joe, and Star Wars.
But it's the last line of the press release that demands attention. "In recognition of this investment and during a period of time after Hasbro becomes the master toy licensee," the press release reads, "the arrangement provides Saban Brands and Hasbro with the opportunity to initiate Hasbro's purchase of the Power Rangers property."
Somewhat coincidentally, and separately, Hasbro gave an update to its "Hasbro Cinematic Universe," an ambitious multi-franchise project announced in 2016. At the time, the planned franchises included Hasbro toy lines Transformers, G.I. Joe, Micronauts, M.A.S.K., ROM, and Visionaries.
The day before New York Toy Fair, Hasbro revealed a more modest slate of films up to 2021, including the Transformers spin-off Bumblebee this winter. (The other films are a new G.I. Joe and Micronauts in 2020, G.I. Joe in 2021, and an untitled project in 2021.)
Transformer World 2005 reports that Hasbro is resetting the Transformers film series after Bumblebee, in a deal with Paramount that will allow Hasbro "greater creative control."
It is extremely unlikely that a new Power Rangers movie, or a new TV series, are actually on the way. Saban Brands is still the owner of the brand, and will keep ownership for the foreseeable future. Furthermore, the last Power Rangers movie was released only a year ago, earning a modest box office gross and mixed critical reception. The TV show just began its 25th season, Power Rangers: Super Ninja Steel.
But the split from Bandai, which has produced and sold Power Rangers toys exclusively since 1993, is a dramatic change to what fans have known for over two decades. That the keys to the franchise are open to a powerhouse toy maker like Hasbro is even more compelling.
Although Power Rangers toys will now be made by Hasbro, Bandai will continue to make toys for the original Japanese series Super Sentai, which is now in its forty-second season.