iPhone SE 2 Could Have iPhone X-Like Notch, Leak Claims
The latest rumor is sketchy at best.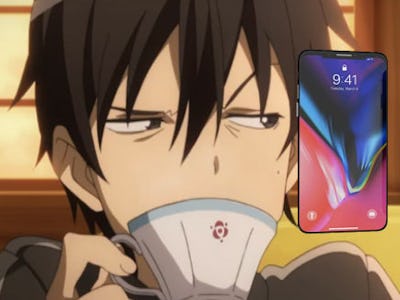 Will the iPhone SE 2 kick it up a notch ahead of Apple CEO Tim Cook's big WWDC keynote? The latest in a series of sketchy leaks seems to say so. On Friday, smartphone leaker Sonny Dickson tweeted a photo of what he claims is an iPhone SE 2 screen protector with a tiny iPhone X-inspired notch. The picture sparked a clamor of replies from enthusiasts saying that they hoped that this leak was actually legit.
However, the size of this notch casts some doubt on the validity of this claim. What's more, Forbes contributor Gordon Kelly has information from a supply chain source saying the 2018 iPhone SE won't have a redesign at all — just upgraded specs.
So where did the SE 2-as-iPhone X rumor come from? The idea that Apple will give this much-talked-about smartphone a notch really took off after Chinese case maker Olixar published unoffical renders of the phone. The designs depicted the iPhone X's notched, edge-to-edge display wrapped up in the iPhone SE's compact chassis and no Touch ID button in sight. Dickson's leaks further these speculations, but the question remains whether Apple can squeeze all of the technology the more powerful iPhone X has in its notch into a bezel half the size?
The Verge broke down everything housed inside of the iPhone X's notch and compared it to a miniature version of the Microsoft Kinect. The smartphone contains eight different components to allow users to make phone calls, take selfies, and use Face ID. Fitting all of these features in half the real estate seems like a bit of a stretch.
iPhone SE 2 Rumors Abound, but This One Is Extra Sketchy
Keep in mind, even if it was achievable this rumored smartphone would probably cost a fortune. The iPhone X was the first Apple phone to ditch Touch ID for Face ID and it went to market at $999. Halving the size of everything in the notch would take some major technological advancements, which would likely not come cheap. The iPhone X's hefty price tag caught a lot of flack from investors and customers suggesting that the company might want to steer clear of further price hikes for their next models.
To top that off, Japanese blog Macotakara spoke to multiple iPhone case makers at the 2018 Global Sources Mobile Electronics convention in Hong Kong and learned that Apple has yet to decide on a final model of the phone. If this is true, any screen protectors going around are even more speculative than the typical Apple rumor.
So while a mini version of the iPhone X might seem tantalizing, many signs suggest it's just wishful thinking. At least for this year.