iOS 11.4 Has a Great New iPhone Feature That Will Save You Tons of Space
Leave room for more photos and videos.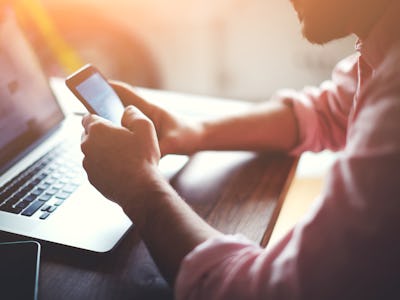 ElectroSawHQ
There are few things more annoying than your iPhone running out of space. Thankfully, Apple's Messages in iCloud feature for iOS 11.4 could be a solution. After six public betas, Apple officially released its latest software update Tuesday. This upgrade brought iPhone and iPad users a few new features ahead of the much-anticipated iOS 12 update expected to be unveiled during WWDC 2018 on June 4.
But while iOS 11.4 won't be as game-changing as what is likely to come, it brought the long-awaited Messages in iCloud feature.
iOS 11.4 Messages in iCloud: How It Works
The new feature syncs your messages across all of your Apple devices, meaning that if you delete a conversation on your iPhone it will also disappear on your iPad. This is done by using Apple's iCloud storage to back up your text history while keeping a copy of them on your device.
This not only spares you from having to go through all of your devices to delete messages you've already deleted before, but it can also free up tons of space that your texts are soaking up. Just think of how many photos you send back and forth with friends. Why not move all that to the cloud and let your hardware breathe?
If you're someone that likes to keep a chronicling of your past conversations, you'll likely be carrying around multiple gigabytes worth of texts. (If not, you've probably been using the space-saving lifehack of auto-deleting messages older than 30 days.) While a few gigs might not seem like a lot for today's phone storage standards, it can still eat up a sizable chunk of, say, the iPhone 7's 32GB total space.
Messages in iCloud lets you locally store only your most important conversations, while keeping your complete messaging history in the cloud. Setting this up only takes a couple of taps.
iOS 11.4 Messages in iCloud: How to Get Started
Once you have iOS 11.4 installed to your iPhone or iPad, navigate to the "Settings" app. Then tap your name at the top of the page, select the "iCloud" option, which will take you into a whole new menu where you can manage what information you want saved to the cloud. Simply swipe the "Messages" button so that it's green to begin.
Done? Congrats! Now you can send all the photos and videos you want (well, within reason) without worrying about eating up your entire hard drive.