iOS 11.4 iPhone Update: Everything You Need to Know About Apple's New Release
Get ready to throw some HomePod parties.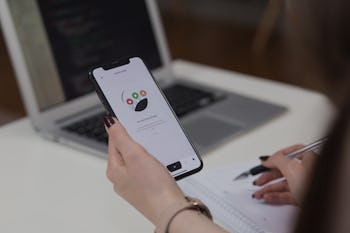 Unsplash / freestocks.org
Apple is releasing its new software update, iOS 11.4, today after rolling out six public betas for it. This launch comes ahead of the 2018 Worldwide Developers Conference on June 4, where the company is expected to pull the curtains off its next major update, iOS 12.
Until then Apple users will have improvements in HomePod and Apple TV connectivity and iCloud-stored messages to look forward to. Here's a breakdown of everything to expect in this long-awaited upgrade.
iOS 11.4 iPhone Update: AirPlay 2
Say hello to Apple's latest audio streaming system. The previous version let you select a slew of music, audiobooks, and podcasts to stream on your HomePod speaker, Apple TV, and other compatible gadgets. But its latest iteration will include multi-room audio and stereo pairing for a much more immersive experience.
Multi-room audio will let you play the same music across multiple HomePods or Apple TVs simultaneously. So if you're having guests over and they're moving to different rooms, this feature will let you and them enjoy the same music throughout various rooms.
Stereo pairing is kind of the same concept, except instead of putting your HomePods in different rooms you will be able to sync them to amplify their sound quality. This will be perfect for outdoor events where speaker sound can sometimes taper off.
Other good news: Thanks to Airplay 2, you may not need an expensive HomePod at all to listen to music over Wi-Fi. Some third-party speakers, including Sonos, will also support AirPlay 2, according to Apple. But don't expect the feature on the older, discounted Sonos models.
iOS 11.4 iPhone Update: iCloud Messages
The endless swiping to delete all of your old texts will finally come to an end with iCloud Messages. This new software feature will sync all of your iMessages across all of your Apple devices, so if you delete a conversation on your iPhone it will also disappear in your iPad.
Before this, you would have to go through each of your devices' inboxes to clear out identical conversations. This will let you do that with just one simple swipe. However, if you want your Mac to sync with the rest of your gadgets, you need to be running MacOS 10.13.5 or higher.
iOS 11.4 iPhone Update: Siri Can Bump Up the Tunes
AirPlay 2 will allow those with at least two HomePods to blast your favorite tunes or enjoy your podcasts of choice no matter what room you're in. This upgraded audio streaming service will now allow you to use Siri to control AirPlay 2 settings.
Instead of having to manually set what room you want music to begin playing in, you can ask Siri to play music from your Apple TV in your living room and play a podcast from your bedroom's HomePod. So it's kind of like having your own virtual DJ.