5 iOS 12 Features the Apple iPhone Desperately Needs After 11.4 Comes Out
Here's what Apple should bring to the next iOS.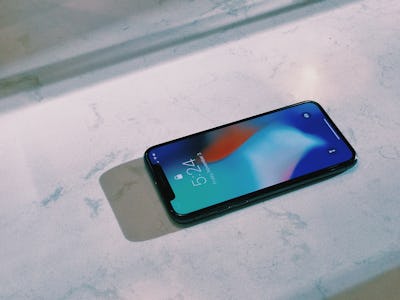 Unsplash / Koby Kelsey
Apple's iOS 11.4 is almost here, but there's even more around the corner for iPhone and iPad users. As Apple rolls out the sixth public beta of its next software release, attention is now turning to the next major iOS update, tentatively titled iOS 12.
More than 11 years after the first iPhone launched, its software has developed from a curiosity into a mainstay of the computing world. It launched at a time when smartphone apps were reserved for the likes of businesspeople and professionals, but Apple has worked to develop an operating system that offers document creation on the go, photo editing at the touch of a button, and video calls across the world. There are still plenty of ways Apple can improve, though.
Apple is expected to unveil iOS 12 at the Worldwide Developers Conference on June 4. Here's what would really make the day:
1. Horizontal Face ID
It sounds dull, but an update to Face ID that makes it work from any orientation would enable a new class of devices. Apple could roll it out to devices like the iPad, which users hold in a variety of ways. This would enable Apple to ditch the home button and provide a tablet with a striking display that stretches to the far edges.
Japanese blog Macotakara suggested earlier this month that horizontal Face ID is happening, so this is highly likely to appear in June.
2. Universal Apps
Apple is rumored to unveil a unified app system under the code name "Marzipan," supposedly integrating iOS and macOS even more. Details are vague (and contested), but the prospect of developers being able to easily bring their apps to either platform holds great promise.
Beyond cutting effort for developers, universal apps could enable Mac users to take advantage of the slew of iPhone apps on the market, while iPhone users could rest assured that the same apps they're used to on the Mac would likely work on-the-go as well.
Daring Fireball's John Gruber poured cold water over this rumor at the start of the month, but a surprise showing would be a welcome addition.
3. Group FaceTime
FaceTime is fun and convenient, but it lags behind in some areas. While Google Hangouts and Skype have offered features like group calls for a while now, Apple's answer to video calling released in 2010 still only allows for conversations between two devices. What about group video calls? They would allow businesses to hold meetings, friends to catch up at once, and even families to share events as a group.
Overall, Apple's plan for FaceTime didn't exactly work out great. The software may have enabled users of the iPhone 4, iPad 2, and later models to easily call each other without the use of third-party software, but that's about it. Plans to transform the software into an openly published standard, announced at FaceTime's unveiling eight years ago, have so far failed to materialize. The only major change Apple has rolled out in that time is the option to make audio-only calls in 2013. In October 2017 it was announced that the company would pay VirnetX $439.7 million in a costly and drawn-out patent dispute over the software.
Apple could give FaceTime a welcome boost with new functionality.
4. Better Siri
Siri, unveiled in 2011 as a core feature of the iPhone 4S, is stalling. Apple has gradually expanded the voice-activated personal assistant across its product range. You can find Siri on every modern Mac, iPhone, iPad, Apple TV, HomePod, and Apple Watch. Only problem is, in all of these places, Siri isn't saying anything too smart.
While Apple has worked hard to enhance Siri over the years, it pales in comparison to Amazon Alexa powering the Echo or Google Assistant powering the Home. As an example, the company unveiled support for third-party apps running through Siri with iOS 10, but one year later, launch developers complained that the implementation was "too restrictive." Alexa and Google Assistant, meanwhile, have flourished with an ecosystem of extras. And Siri's even more limited on the Apple HomePod, which makes the super-expensive smart speaker worthwhile for audiophiles only.
That's even if you get Siri to understand you. A Reddit subreddit called "SiriFail" collects the worst examples of Apple's assistant failing to live up to the "I" in "A.I."
5. Dark Mode
The iPhone X introduced two big changes to Apple's smartphone screen: a strangely placed "notch" that houses a face recognition scanner, and an edge-to-edge OLED screen. While the notch first seemed annoying, it has gradually cemented itself as a mainstay, with even Android makers joining the trend. But it seems OLED has yet to truly shine on the iPhone X.
A dark mode could transform the iPhone from a blazing white screen of data to a mystical device where words seem to float in the ether. Unlike LCD, OLED switches off individual pixels when not in use, meaning that darkness appears truly dark. The Apple Watch uses this same aspect to present watch faces that look as if they're floating on the device screen.
Dark mode could transform all user interface elements by switching the white out for black. It's a feature already seen to some extent with "smart invert," a feature that switches the colors for accessibility reasons while leaving photos alone to display in original colors.
It would also have an interesting secondary effect: A dark mode on the OLED would hide the iPhone X notch, solving two problems in one.