iPhone SE 2, iOS 12 Rumors: WWDC 2018's 5 Most Hyped Rumors and Releases
Get ready for some game-changing announcements.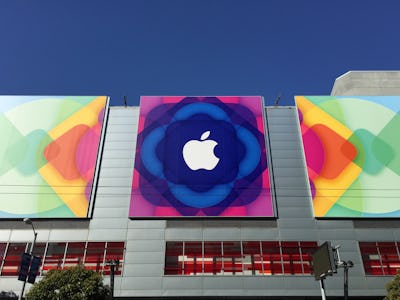 Flickr / karmadude
Apple's 2018 Worldwide Developers Conference is just around the corner. On June 4, iOS developers and Apple fans from around the world will gather at the McEnery Convention Center in San Jose, California, to find out what software and select hardware Apple has in store for the latter half of 2018 and next year.
In the months leading up to WWDC, blogs and leakers across the internet have been trying to figure out exactly what Apple CEO Tim Cook will unveil. Specifics about the rumored iPhone SE 2, a slew of game-changing iOS 12 features, and even a new HomePod are among the expected announcements. (That said, we don't expect an SE 2 announcement until September.)
Here are all of the most anticipated reveals Apple enthusiasts have been hoping for:
WWDC 2018's Expected iOS 12 Features — Plus macOS, watchOS, and tvOS
Before we dive into all of the hardware hype, it's important to note that WWDC is primarily devoted to software developers, so get ready for an OS overload. Apple is expected to make some major updates to all of its operating systems, including iOS, macOS, watchOS, and tvOS.
iOS 12
Apple's iOS 12 is by far the most anticipated software drop. Rumors have been buzzing about potential cross-platform functionality, which would let developers make iPhone apps that would work more seamlessly across all Apple products. This might come with a few new additions, such as new Animojis for the iPhone X, Animoji integration into FaceTime, a redesigned Stocks app, and a newly improved Siri.
watchOS, tvOS, and More
There hasn't been much to go one regarding what might be announced about the other operating systems. But if cross-platform functionality is indeed the focus, then we might expect to see a whole new era of apps and widgets across all Apple devices. 9To5Mac also discovered a snippet of code in watchOS 4.3.1 that suggested the company was working on customizable watch faces.
WWDC 2018 iOS Announcements: Ask Siri Even More
Apple's voice-activated Siri assistant is living in the shadow of both Alexa and Google Assistant, especially after what we saw during Google I/O. But many signs point to the fact that Apple is doubling down on artificial intelligence and voice recognition. It needs to if it wants to stay competitive.
Only weeks before WWDC, Inverse and Apple users across the internet spotted an Easter-egg promotional campaign for its assistant. When asked specific questions about WWDC, Siri now brags about "getting a brand-new voice" and "getting a lot smarter" in the near future.
The company also poached Google's former chief of search and A.I., John Giannandrea, in April. This was widely seen as an effort to up Siri's functionality. So expect some big changes to Apple's virtual helper.
WWDC 2018: iPhone SE 2 Rumors Sound Awesome but Unlikely
Now for the hardware. There's no better place to start than the much-talked-about iPhone SE 2. There has been an overwhelming stream of sometimes shady rumors and speculations about when this phone might drop and what it will look like.
The biggest takeaway is that this potential smartphone will merge the compact chassis of the original iPhone SE with the edge-to-edge and notched display of the iPhone X. There have also been other rumors saying it might come with Face ID and wireless-charging capabilities, but nothing has been confirmed yet.
Keep in mind that Apple hosts an annual iPhone keynote address in September, focused on hardware. It's the more likely announcement date for Apple's next-generation devices, like the iPhone X 2018, iPhone X Plus, and, yes, the iPhone SE 2. There's a still a chance some new phones or features might get teased on June 4, but don't hold your breath for a full-fledged announcement.
WWDC 2018 Announcements: Is a HomePod Revamp in the Works?
Even though Apple's smart speaker hit shelves on Feb. 9, there has been chatter about a potential HomePod update. The aforementioned Siri Easter-egg campaign also included another snippet where the A.I. brags about getting a "shiny new home" that is "meshy and matte." Sounds a lot like the HomePod.
There is also a rumor that a Beats-branded HomePod might come to fruition. But this speculation seems to be compounding two separate Apple projects.
WWDC 2018: Could the MacBook Air Make a Comeback?
Last year's WWDC brought noteworthy new looks to both Macs and MacBooks, but one ultra-light computer was ignored: the MacBook Air. The last time Apple tweaked its signature slender laptop was back in March 2015 with some minor updates, so there have been talks about a potentially bigger refresh this year.
DigiTimes reported that Apple was cooking up a new 13-inch laptop that would serve as a replacement for the MacBook Air. The January 2018 report cited sources from touch-panel maker General Interface Solution (GIS), which was expected to manufacture LCD display orders for these rumored laptops. The publication first said this new MacBook could be revealed as early as the first half of 2018, but it has since revised its forecast to the third business quarter.