Apple WWDC 2018 Rumors: Smarter Siri? iPhone SE 2? HomePod? Here's What to Expect
Apple's Super Bowl for developers is almost here.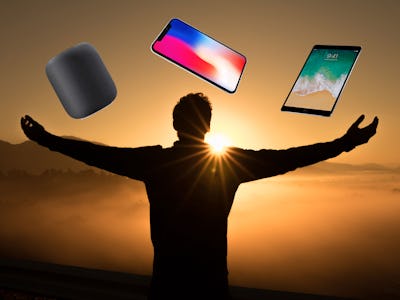 Apple WWDC 2018 is upon us. On June 4 the Worldwide Developers Conference will bring iPhone fans all of the freshest iOS updates and software developments that Apple has in store for 2018 and onward. But it's never quite WWDC season without a monsoon of product rumors weeks before the event.
Over the past month, we've heard whispers that the iPhone X might be pushing up daisies, chatter about an iPhone SE comeback, and some talk about a cheaper HomePod. Now, WWDC is generally geared around Apple software, not hardware — but fans will likely be looking for some clues about all the rumors anyway.
Here's everything to look for — and everything you'll probably wait until September to hear more about.
Apple WWDC 2018 Rumors: New Year, New Siri
For Siri, Apple has released a bit of an Easter-egg promotional campaign of its own. The Apple Post discovered that by simply asking Siri about WWDC would prompt her to tease some of the reveals we might see at the event. Inverse testing showed some of the same results. "La la la, Siri is getting a brand-new voice!" one said. "I'm getting a lot smarter," said another.
We had an idea these changes were coming. The company hired an A.I. heavyweight early in April to help improve Siri. It also announced the development of "Persnalized Hey Siri," which would be able to identify the voice of the phone's owner.
These are necessary moves for Apple, whose digital assistant is lagging behind Alexa and Google Assistant. Google just announced a plethora of wild new A.I. features. So get ready to be able to ask Siri for more than just the weather.
Apple WWDC 2018 Rumors: Ya'll Got Any iPhones?
Now to address the elephant in the room: Will there be a big iPhone reveal at WWDC? There's always a possibility. Despite rumors about the iPhone SE 2's reveal, based on other reports and past iPhone releases it's likely that Apple fans will need to wait a bit longer to learn more.
According to anonymous sources interviewed by Macotakara at the Japan IT Week Spring 2018 Mobile Expo, production of the second-generation iPhone SE has not begun. The Japanese blog cited a "Chinese accessory manufacturer" that claimed the device would make it to market late in the third business quarter — or early July through September.
The previous two generations of iPhones have all been released in November, with pre-orders starting in September. This coincides with the timeframe put forth by Macotakara. There's always a chance that something might be said about upcoming iPhones, but if you're hoping for a full-fledged release, the odds are looking slim.
Apple WWDC 2018 Rumors: HomePod Revamp
Siri has more secrets! But instead of its new voice, this teaser could be alluding to a brand-new HomePod. Even though Apple's smart speaker just hit shelves on Feb. 9, there have been talks of a cheaper HomePod going on sale as early as this year. There is even a rumor that it could carry Beats branding, but that's speculative at best.
This would also make sense if Apple is intending on improving Siri's functionality. It'll give consumers improved software with the ability to purchase hardware that complements it. We hope it's spacious in there, Siri.
Apple WWDC 2018 Rumors: iPhone X-Inspired iPad Pro
While we probably won't see any major iPhone action go down during Apple's summer conference, the possible announcement of 11-inch and 12.9-inch iPad Pros could fill that smartphone-sized hole in your heart.
A report by Economic Daily (translated by MacRumors) revealed that these new iPad could also include some iPhone X features. This new generation of devices could include a Face ID face-detection system and a faster 8-core Apple A11X processor. What about a notch? That's unclear. But it does seem like Apple wants to kick its tablets up a notch.
Apple WWDC 2018 Rumors: MacBook Air Redesign
Last year's WWDC brought a notable refresh to both Apple's laptops and desktops, but one computer was left untouched: the MacBook Air. Apple's signature slender laptop saw only minor updates in its last revision in March 2015, so there is hope it could get a bigger update this year.
DigiTimes reported that Apple was cooking up a new 13-inch laptop that would serve as a replacement for the MacBook Air. The January 2018 report cited sources from touch panel maker General Interface Solution (GIS), which was expected to manufacture LCD display orders for these rumored laptops.
The publication initially predicted that this new MacBook could be announced as early as the first half of 2018. But it has since revised its forecast to "probably in the third quarter."