'Avengers 4' Casting Rumor Is Even More Evidence of a Time Travel Plot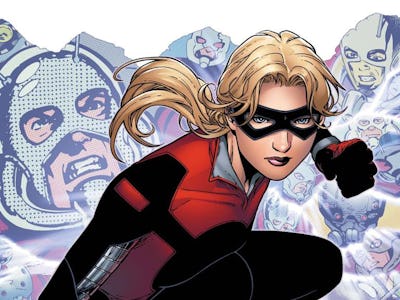 Marvel Entertainment
Scott Lang, the master thief also known as Ant-Man, is nowhere to be found in the lead-up to Avengers: Infinity War. But his daughter, Cassie Lang, might appear in next year's sequel, the still-untitled Avengers 4.
On Wednesday, actress Emma Fuhrmann's IMDB profile was updated to include a credit for "Cassie Lang" for Untitled Avengers Movie in 2019. The casting of Fuhrmann as Cassie, last played by child actress Abby Ryder Fortson not too long ago in 2015's Ant-Man, adds more evidence to rumors surrounding Avengers 4, which may deal with time travel in a big way.
Fans are speculating a time travel plot in Avengers 4 based on previous set photos of Benedict Cumberbatch's Doctor Strange, who possesses the "Time Stone," and the other cast members, who are seen wearing older versions of their superhero costumes.
This is all still rumor, however. IMDB changes are far from official confirmation. Marvel has not acknowledged Fuhrmann for Avengers 4 in any of its social channels, and neither has Fuhrmann on her respective social media. However, Fuhrmann has taken up a training regiment, John Benton Model Fitness, and she did quote-tweet the Infinity War trailer when it was released last month with the caption, "Ready to assemble." Of course, Fuhrmann might just be taking care of herself, which all of us should, and she might just be excited for Infinity War like the rest of the world.
In the comics, Cassie Lang is a superhero herself, originally fighting under the name "Stature" before becoming another bug-inspired vigilante, "Stinger," in 2016's Astonishing Ant-Man. Like her father, Cassie is capable of manipulating her size at will thanks to exposure to the Pym Particles. If Fuhrmann is indeed playing Cassie Lang in Avengers 4, then perhaps they enter a future not totally wrecked by Thanos so Cassie can fly high as either Stature or Stinger.
Avengers: Infinity War will hit theaters on April 27. Avengers 4 will be released on May 3, 2019.