'Infinity War' Poster Easter Egg Might Be a Tiny Ant-Man, If You Squint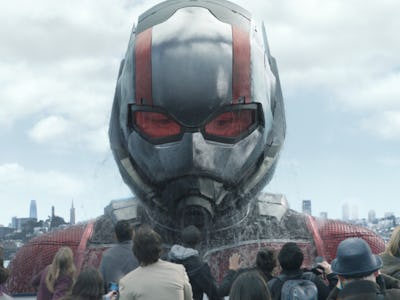 Marvel Studios
IMAX's nifty new poster for Avengers: Infinity War, releasing April 27, might have an actual Easter egg after all. On Reddit, fans are wondering if Ant-Man has snuck his way onto the poster for Infinity War, thereby making it the first time the bug-sized superhero has been anywhere near the blockbuster film's promotion.
On Thursday, a Reddit user named TopherGray (not to be confused with the Spider-Man 3 actor, Topher Grace) posted on r/marvelstudios a blown-up version of a tiny area on the IMAX poster for Avengers: Infinity War released this week. While it could be nothing but just empty space, the silhouette looks unmistakably like Ant-Man, played by Paul Rudd in the Marvel Studios franchise.
Fans are naturally divided if this is actually Ant-Man. "HUGEEEE if true," wrote user apesfollowcaesar. Another user, hamzasalt, wrote, "NO WAYYYYYYYYYYYYYYYYY IM SCREAMING THIS IS AMAZING, RUSSO BROTHERS WHERE U AT." But others are skeptical. "Lol you guys are just seeing what you wanna see," said Joeyjojo_jr-shabadoo.
For ten years, Marvel has kept fans engaged with its interconnected narrative where everything matters and all these characters somehow know each other. It's one of the sole defining traits to the MCU. With Infinity War set to culminate the last ten years' worth of storytelling, it's only natural that fans just want to know where in the universe familiar, well-established characters like Ant-Man and Jeremy Renner's Hawkeye are.
Luckily, Infinity War isn't the end. While Ant-Man and Hawkeye are MIA in the next Marvel movie, for now, both Rudd and Renner were on the set of Avengers 4 in full costume. The yet-untitled fourth Avengers film will be released in 2019. Also, Ant-Man has his own movie, with Evangeline Lily's The Wasp, in Ant-Man and the Wasp later this July.
Avengers: Infinity War will be released in theaters on April 27. Ant-Man and the Wasp will be released on July 6.